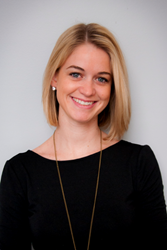 Chicago, IL (PRWEB) May 07, 2014
Jenna Bruce named Vice President of Sales, REX Building Services Division of REX Electric & Technologies, LLC.
REX President Michael Segreti announced today that Jenna Bruce has been named Vice President of Sales for the REX Building Services (RBS) Division of REX Electric & Technologies, LLC.
Jenna previously served as Project Executive, Riser Division at REX Electric, where she managed the accounts for more than 50 buildings in both Chicago and the suburbs. She has been at REX since January 2013. Riser management is the design, engineering and installation of phone, fax and internet service lines that provide the backbone to a building's and its tenants' technology infrastructure.
"Jenna has been instrumental in the growth of our riser management division and has been a key contributor to REX's growth," Segreti said. REX, an electrical contractor and technology firm, is one of the nation's largest systems integrators, as noted by SCN Magazine, and has seen strong growth in 2014, he noted.
REX Building Services Division was started in 2008 to provide continuous electrical service maintenance to virtually all types of REX clients. RBS serves tenants, property managers, building engineers, energy groups, HVAC contractors, business owners and other end users directly.
In addition to providing the full spectrum of general electrical maintenance services, RBS provides all types of diagnostic testing for disaster avoidance, including infrared electrical inspection. RBS also has a fully equipped service fleet of more than 30 vehicles, including 60-foot boom trucks and a highly trained staff to handle all types of outdoor electrical needs.
Jenna is active in real estate and other professional organizations, and serves on a number of boards for Building Owners & Managers (BOMA) Chicago and CoreNet Chicago. She is an active member of the Commercial Real Estate Organization (CREO), Chicago Real Estate Network (CREN) and the Young Professionals of Chicago (YPC).
She is professionally accredited as a USGBC LEED Green Associate and holds her B.S. degree from the University of Colorado at Boulder. She is a resident of Chicago.
REX Electric & Technologies, LLC is a leading electrical and technology contractor, serving general contractors, end-user businesses of all types and residential clients with all types of electrical services. REX office and field staff work in close partnership with clients who range from start-ups to Fortune 1000 companies to deliver excellent craftsmanship, outstanding service and safety and exceptional value. Family owned and operated since 1921, REX stands behind its craftsmanship. For more information, please visit http://www.REXelectric.com.