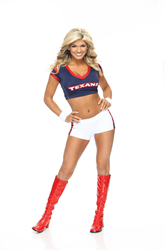 Houston, Texas (PRWEB) May 06, 2014
Michael Ramirez (@Big_Mike_71), a senior football player from Crosby High School, learned the power of social media after he asked Houston Texans Cheerleader Caitlyn (@HTC_Caitlyn) to be his date for his senior prom if his Twitter proposal got 10,000 retweets. In less than 24 hours, the story had gone viral and he exceeded the 10,000 retweets. Caitlyn will attend the school's prom with Michael on May 10.
Media is invited to witness the first meeting between Caitlyn and Michael at Churrascos River Oaks at 2055 Westheimer Road at 6 p.m. CDT on Saturday. This will be the only opportunity for photos and interviews as media will not be permitted at the Crosby High School prom location Saturday evening.
Caitlyn was Miss Austin Texas 2013 and competed in the 2013 Miss Texas USA Pageant. She is starting her second year as a Houston Texans Cheerleader.
WHAT: Texans Cheerleader goes to Crosby High School Prom
WHO: Houston Texans Cheerleader, Caitlyn, and Crosby High School senior football player Michael Ramirez
WHEN: 6:00 p.m. CDT
WHERE: Churrascos
2055 Westheimer Road, Suite 180, Houston, TX 77098