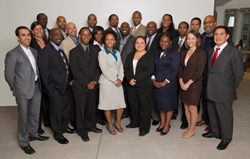 Rochester, N.Y. (PRWEB) May 06, 2014
Applications are being accepted for the 2014 Future Faculty Career Exploration Program at Rochester Institute of Technology. The program for recruiting diverse faculty candidates, now in its 11th year, has been recognized nationally for its strategies to showcase doctoral candidates' research and to provide them the opportunity to explore career options at the university.
"The program was established to develop and sustain the pipeline necessary to recruit under-represented faculty," said Renee Baker, executive director of RIT's Office of Faculty Recruitment and Retention and host of the career exploration program. "There are qualified candidates out there. We've found a way to bring them to RIT, and these prospective candidates are able to learn more about navigating the entire hiring process."
Applications are being accepted from candidates who are within one year of receiving, or who have already achieved, a Ph.D. or Master of Fine Arts degree, a post-doctoral assignment, or are currently junior-level faculty; those from underrepresented and underserved populations, especially applicants of African American, Latin American, American Indian, or Alaskan Native descent; and receiving degrees aligning with the disciplines offered at RIT.
Prospective candidates can apply online for the fall event, taking place at RIT Sept. 18–21, or send an email to facultyr(at)rit(dot)edu and attach a curriculum vitae along with a cover letter including a contribution to diversity statement to the RIT Office of Faculty Recruitment and Retention. (Optional documents that can be sent include teaching philosophy and work samples.) The application deadline is June 1. If selected to participate in the program, individuals are eligible for an all-expense-paid trip to visit the university.
"The Future Faculty Career Exploration Program is a unique and exciting opportunity to explore potential faculty career choices at RIT through exploratory interviews, meetings with deans, department heads and our university president, as well as tour our campus and surrounding community," said Baker.
Related articles:
Future Faculty Career Exploration Program influences growth of diverse faculty at RIT
http://www.rit.edu/news/story.php?id=50254