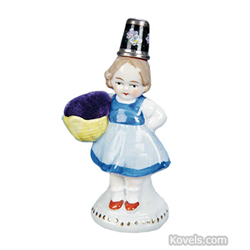 Cleveland, OH (PRWEB) May 07, 2014
Looking for a gift for a collecting enthusiast who enjoys flea markets, antiques shops and shows? A carefully chosen vintage item or something she collects would be a thoughtful Mother's Day surprise. The antiques experts at Kovels.com have 5 suggestions you may never have considered:
1. A piece of the past
Does Mom love to sew? Look for sewing accessories from scissors and figural tape measures to exotic chatelaines and etuis (a small decorative case that might hold a set of sewing tools). Garden? Old tools, antique garden gnomes (iron in the 1890s, stone in the 1930s, cement in the 1950s), pieces of architecture tiles, figures or signs from old buildings add interest to a garden. Cook? Search for old but decorative utensils, pans or out-of-print cookbooks.
The 1930s German porcelain figurine pictured holds a pincushion and thimble and would bring a smile to a sewing Mom's face. It sold at a recent auction for $224.
2. A charm bracelet – or even just a charm
Charm bracelets from the 1950s are becoming popular again. Pick charms with sentimental value—for each child, each trip, each job (a tiny typewriter or computer), hearts or small gold coins. Or use a school ring, sorority pin, even a piece of old broken or out-of-style jewelry. The bracelet can be all gold or all silver. And add more charms each year.
3. Flower Frog
A flower frog isn't necessarily a frog at all. It's a flower holder with holes, and can also be called a "flower arranger" or "flower block." Place a figural flower frog in a matching low bowl, although a low glass bowl can be used in a pinch. Then insert flower stems in the frog's holes and fill the bowl with enough water to keep the ends of the stems submerged—but to show off the base of the frog. Many were made by American glass and pottery companies in the 1920s and '30s, and they're sought after by collectors today. Stems placed in its holes are meant to gently droop away from the figure. Vintage flower frogs can be found at garage sales, flea markets, antique stores and internet shops and sell from a few dollars to a few hundred dollars. And be sure to add a bunch of flowers for Mom!
4. Picture frame
Mothers are always looking for a clever way to show off treasured photos. Tabletop photo frames began to appear in 1860s and by the 1880s fireplace mantles and pianos were crowded with pictures. From heavily carved and gilded Victorian-era frames to Art Deco "piano" frames for a formal wedding photo to plain and simpler silver 3 in. by 5 in. frames from the 1950s, the right frame can make a photograph, artwork, or even a mirror, "pop" on a table or wall. There is always a box of old frames in antique shops but a lot of empty frames are showing up at auctions and shows. And if Mom doesn't follow you on Facebook or Instagram, surprise her with a photo that she may never have seen!
5. Perfume bottle
Does Mom have a sweet spot for fragrance or beauty products? Pamper her with an elegant perfume bottle made of cut glass, pressed glass, art glass, silver, metal, enamel or porcelain—to use or just admire. Collectors love 19th- and early 20th-century examples, and bottles with DeVilbiss atomizers, made from 1920 to 1968. Or look for a "factice"—a store display bottle. Best is an old perfume bottle in mint condition with its box. The International Perfume Bottle Association (IPBA), PerfumeBottles.org, has lots of information and they have started a newsletter for young collectors, so maybe grandma and granddaughter can learn some new things together, which is a great Mother's Day gift.
About Kovels.com
Kovels.com, created by Terry Kovel and Kim Kovel, provides collectors and researchers with up-to-date and accurate information on antiques and collectibles. Kovels' Antiques was founded in 1953 by Terry Kovel and her late husband, Ralph. Since then, Kovels' Antiques has published some of America's most popular books and articles about antiques, including the best-selling "Kovels' Antiques and Collectibles Price Guide," now in its 46th edition. The Kovels' website, online since 1998, offers 900,000 free prices, and includes a free weekly email, "Kovels Komments." Kovels.com gives readers a bird's-eye view of the market through the latest news, auction reports, a Marks Dictionary, readers' questions with Kovels' answers and much more.
Contact Information:
Liz Lillis
216.752.2252
Pr(at)kovels(dot)com