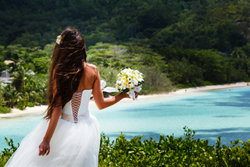 "This finding will likely surprise many," said John Heath, Directing Attorney for Lexington Law. "Women are too often stereotyped as caring more about style and overall impression than hard logistics like cost. Our survey's findings refuted that notion."
Salt Lake City, UT (PRWEB) May 07, 2014
Lexington Law, the nation's leading credit repair provider, has announced several findings regarding American views on wedding debts and expenses. The study was conducted online by Harris Poll for Lexington Law between April 21 and 24 among 2,039 adults ages 18 and older.
Although only 4% of American adults said they would or did go into debt to pay for their "dream wedding," the gender balance tipped toward men: While 3% of women either did or would go into debt for this purpose, almost twice that number of men (5%) stated that they would or did do so.
"This finding will likely surprise many," said John Heath, Directing Attorney for Lexington Law. "Women are too often stereotyped as caring more about style and overall impression than hard logistics like cost. Our survey's findings refuted that notion."
Heath pointed to other encouraging findings that favored financial responsibility.
"Almost everyone, 91%, indicated a preference for entering marriage debt-free than having a dream wedding," Heath added, "and a healthy 34% said that they would rather save, or did indeed save, money to pay for their wedding than splurge on it."
The study revealed that the average cost that Americans are willing to pay for their dream wedding is $7,600.
More startlingly, more than a third of Americans indicate financial difficulty: 36% state that they aren't able to pay their bills in full each month. 73% of Americans acknowledge carrying some kind of debt, with credit card debt being the most common type (45%), followed by mortgage (35%), and medical expenses (18%).
The study also measured some of the alternative methods Americans have used or would consider using to pay for their wedding. 32% of Americans say that they have or would utilize alternative options in order to pay for their wedding, with credit cards (17%), taking on a second job (12%), and borrowing money from parents (11%) comprising the top three most popular responses.
Other highlights from the survey include:
-36% say they would/did budget less than $5,000 on a dream wedding. Another 35% are or were willing to pay between $5,000 and $12,000. The rest say they are or were willing to pay more, with 5% indicating willingness to pay between $30,000 and $100,000.
-Age is also a factor when considering a dream wedding. Older Americans age 45+ (3%) indicate less willingness to open their wallets to pay between $30,000 and $100,000 than those age 18-34 (7%).
-Over a quarter (27%) of Americans indicated that they either will or did pay cash for a wedding dress instead of putting it on a credit card.
-12% say they intend to or did pay for their honeymoon with a credit card.
For all survey findings, visit: American Views and Personal Experiences On Wedding-Related Debts
"Although many Americans admit to difficulty in meeting financial obligations each month," Heath added, "too many are apparently more than willing to incur outsized wedding expenses.
"Fortunately, for the largest portion, responsible considerations guide their financial beliefs and subsequent behaviors."
Survey Methodology
This survey was conducted online within the United States between April 21 and 23, 2014 among 2,039 adults ages 18 and older by Harris Poll on behalf of Lexington Law via its Quick Query omnibus product. Figures for age, sex, race/ethnicity, education, region and household income were weighted where necessary to bring them into line with their actual proportions in the population. Propensity score weighting was used to adjust for respondents' propensity to be online.
All sample surveys and polls, whether or not they use probability sampling, are subject to multiple sources of error which are most often not possible to quantify or estimate, including sampling error, coverage error, error associated with nonresponse, error associated with question wording and response options, and post-survey weighting and adjustments. Therefore, Harris Poll avoids the words "margin of error" as they are misleading. All that can be calculated are different possible sampling errors with different probabilities for pure, unweighted, random samples with 100% response rates. These are only theoretical because no published polls come close to this ideal.
Respondents for this survey were selected from among those who have agreed to participate in Harris Poll surveys. The data have been weighted to reflect the composition of the adult population. Because the sample is based on those who agreed to participate in the Harris Poll panel, no estimates of theoretical sampling error can be calculated.
About Lexington Law
Lexington Law is a consumer advocacy law firm with decades of experience, helping hundreds of thousands of Americans work to improve their credit. The firm comprises the largest network of credit repair professionals in the U.S., employing a growing staff of 26 attorneys and 200+ paralegals/agents across 19 states. By leveraging consumer rights to legally resolve issues with creditors and credit bureaus, Lexington works to ensure that client credit reports are fair, accurate, and substantiated. For details about Lexington Law's services, attorneys, or statistics visit: http://www.lexingtonlaw.com.
About Nielsen & The Harris Poll
On February 3, 2014, Nielsen acquired Harris Interactive and The Harris Poll. Nielsen Holdings N.V. is a global information and measurement company with leading market positions in marketing and consumer information, television and other media measurement, online intelligence and mobile measurement. Nielsen has a presence in approximately 100 countries, with headquarters in New York, USA and Diemen, the Netherlands. For more information, visit http://www.nielsen.com.