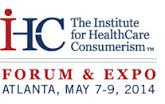 Atlanta, GA (PRWEB) May 08, 2014
FusionHealth®, the leading provider of sleep health management solutions that improve employee health and wellness, today announced a joint presentation by Dr. Jeffrey Durmer, Chief Medical Officer FusionHealth, and John Pryor, Vice President, Human Resources and Safety, Southeastern Freight Lines. The presentation will be provided at the Institute for Healthcare Consumerism's FORUM East Conference at the Cobb Galleria Center in Atlanta, Georgia on May 8th. FusionHealth is a Silver Sponsor this year of the "HealthCare Consumerism: The Solution for HealthCare Reform" Conference. The IHC is dedicated to innovative health and benefit management for health and benefits professionals from employers, brokers and health plan providers.
Dr. Durmer and John Pryor will explain how sleep apnea is exposing companies to significant risk associated with healthcare costs, productivity and safety, and how the FusionHealth solution provided Southeastern Freight Lines with the necessary results to fully expand the program.
"FusionHealth has enabled us to address the critical issue of sleep apnea and its powerful effect among our commercial drivers without a significant productivity loss to our business," stated John Pryor. "Their innovative solution allowed us to provide consistent level of care, medical acumen to our drivers that has delivered measurable results."
By request of the Institute for Healthcare Consumerism, FusionHealth was asked to address the assembly concerning the impact of sleep apnea on health, and the risk it poses to productivity, safety and the reputation of employers throughout the world. "Over 80% of people with sleep disorders, like sleep apnea, do not know they have a chronic sleep problem", stated Dr. Jeffrey Durmer, CMO and Co-Founder of FusionHealth. "The effect of undiagnosed sleep apnea on a workforce cuts across organizations by increasing healthcare costs, fatigue related accidents, productivity loss and legal exposure". The Institute for Healthcare Consumerism highlights leading solution providers who are actively working to solve the most pressing issues in health and benefits.
"We are excited to be able to share some of our findings and the success of our client at the IHC FORUM Conference, and proud to have our Chief Medical Officer, Dr. Durmer present together with John Pryor," stated Sigurjon Kristjansson, CEO and Co-Founder of FusionHealth. "Southeastern Freight Lines has certainly demonstrated its leadership in promoting health and safety to its employees by the way they have addressed the critical issue of sleep apnea among their drivers."
About FusionHealth
FusionHealth®, headquartered in Atlanta, GA, delivers technology-enabled integrated sleep health management solutions for companies seeking to improve employee health and reduce health-related costs. The company's SaaS-based delivery model provides its client companies with access to its global technology platform enabling them to integrate sleep health management with personal wellness and employee engagement in a way that changes lives and improves their bottom line performance. For more information, visit http://www.fusionhealth.com.
Company Contact
Craig Reamsnyder
EVP Business Development, FusionHealth
888-505-0280
cr(at)fusionhealth(dot)com