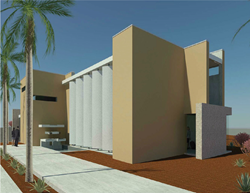 San Diego, CA (PRWEB) May 06, 2014
A NewSchool of Architecture and Design student received a first place Eco Innovators Award of Excellence during the Metropolitan Water District of Southern California's annual ECO Innovators Showcase May 1. The organization gave high marks to the design by NSAD student Nick Wilson, and also recognized the school's "innovative teaching philosophy that inspires…students to develop sustainable environmental solutions."
The competition, part of the Metropolitan's annual Spring Green Expo, attracted projects from 20 universities and community colleges throughout Southern California in individual and team categories. Wilson's project, which was one of three NSAD entries, featured examples of single-family sustainable "Eco Houses" for desert climates such as Phoenix, Ariz. The project incorporates wind flow patterns and a pond and fountain element to encourage the flow of cool air through the homes, resulting in greater energy efficiency. The concept was developed by Wilson, who is in the Bachelor of Architecture program, under the guidance of NSAD instructor Don Mirkovich.
The other NSAD entries included a project by student James Darby that was also guided by Don Mirkovich, and a submission by student Joshua Nunnally that was guided by NSAD instructor Victor Navarro.
A panel of judges from Metropolitan's Engineering, Water Resource Management and External Affairs groups scored the entries for the ECO Innovators Showcase competition, resulting in a tie for top individual honors in the Eco Innovators Award of Excellence category that Wilson received. The event and competition serve to bring awareness to topics related to water conservation and sustainability, and includes exhibitions highlighting related technology, products, services and programs.
About NewSchool of Architecture and Design
Located in downtown San Diego, NewSchool of Architecture and Design (NSAD) prepares students for career success in design fields through an emphasis on interdisciplinary and global design skills, industry collaborations and real-world projects. The school's programs include architecture, construction management, product design and interior design. The school also offers programs in digital media arts, game art, game programming and animation. For the past two years, DesignIntelligence has ranked NSAD among the top 10 undergraduate architecture schools in the western United States in its publication "America's Best Architecture & Design Schools." The school's design environment provides inspiration for the school's students and faculty, recognized for their work regionally and internationally, and NSAD students are prepared to work in a global and diverse work environment through the school's collaborations with award-winning schools around the world such as Domus Academy in Milan, Italy and Media Design School in Auckland, New Zealand. NSAD is accredited by the Western Association of Schools and Colleges (WASC) Senior College and University Commission, and the Accrediting Council for Independent Colleges and Schools (ACICS). NSAD's Bachelor of Architecture, Master of Architecture and Executive Master of Architecture programs are accredited by the National Architectural Accrediting Board (NAAB). http://www.newschoolarch.edu/