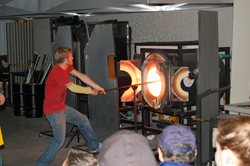 Glassblowing is an amazing artistic endeavor that few people have ever tried before.
Skagway, AK (PRWEB) May 08, 2014
Jewell Gardens, a popular tourist attraction in Skagway, Alaska, has recently launched a new site-seeing experience for independent travelers vacationing in the Alaskan Panhandle. The new tourist activity, a participatory glassblowing class, is the only public glassblowing experience of its kind in Alaska. Jewell Gardens' visitors who make an online reservation have the opportunity to create a distinctive piece of glass-blown art.
In fact, visitors who sign up for the glassblowing experience at Jewell Gardens can select their own colors and design—and blow their own simple ornament or glass float.
Garden City Glassworks' "hot shop" sits at the base of a towering rock wall amid the beauty of Jewell Gardens. Sightseers to the area with a thirst for excitement, get to experience something at Jewell Gardens that can be found nowhere else in the state. Jewell Gardens is situated a mile from downtown Skagway, a popular destination for tens of thousands of cruise ship passengers and a growing number of independent travelers each year.
"Glassblowing is an amazing artistic endeavor that few people have ever tried before," said Charlotte Jewell, who co-owns Jewell Gardens with her husband Jim. "For participants there's one-on-one time in the studio with our glass artists who will explain the process and walk each person through it." What visitors greatly appreciate, Charlotte added, is that after annealing, a process in which the glass is cooled overnight, Jewell Gardens will ship the artwork home at no additional charge. "It's the final step to an extraordinary experience for people," Charlotte explained. "You make glass art at the Glassworks—and you get to adorn your home with it!"
Thousands of people come to Jewell Gardens each year to stroll the garden and see glasswork artists practicing their craft at Jewell Gardens' "hot shop" studios. For those who wish to observe the glass-making and not participate in blowing glass, this is an ideal scenario. The hot shop studios is open to all visitors—and anyone can watch this spellbinding experience. For those who desire more, of course, a class blowing class is available when booked in advance. Spaces are limited.
The glassblowing class for independent travelers is a new offering. Though every cruise line that stops in Skagway sells a tour that includes a visit to the garden and/or glassworks, this tour is unique. For all travelers, Charlotte Jewell recommends "strolling the garden grounds, dining in the courtyard on a delicious lunch made with organic garden ingredients and taking in the spectacular views."
Additionally, many visitors find Skagway history quite fascinating. Skagway was a stopping point on the White Pass and Yukon line that linked this port community to the Yukon—the site of the Klondike Gold Rush.
For further information:
Visit us at http://www.jewellgardens.com
Phone: 907-983-2111
Info(at)jewellgardens(dot)com