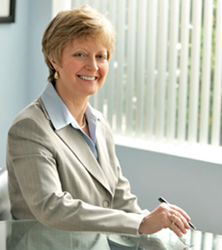 "A driver behind the wheel of a tractor-trailer is responsible for the lives of every driver around him, and medical examiners have to understand the responsibility they have when they certify these drivers as fit to drive."
Lexington, KY (PRWEB) May 08, 2014
Any medical examiner who conducts DOT-required physical examinations of interstate truck drivers must complete training, pass a certification test, and have their name added to the DOT's National Registry to be legally qualified to administer the exam, under a new DOT rule that takes effect May 21, 2014.
Julie Butcher is a personal injury lawyer in Lexington who has been following development of this rule by the Department of Transportation's Federal Motor Carrier Safety Administration (FMCSA). "Having medical examiners meet certain requirements before they can perform trucker exams is just good sense," Butcher said. "A driver behind the wheel of a tractor-trailer is responsible for the lives of every driver around him, and medical examiners have to understand the responsibility they have when they certify these drivers as fit to drive."
As stated in Volume 77, No. 77 of the Federal Register, published April 20, 2012, FMCSA developed "the National Registry program to improve highway safety and driver health by requiring that medical examiners be trained and certified so they can determine effectively whether a CMV [commercial motor vehicle] driver's medical fitness for duty meets FMCSA's standards."
The rule requires the medical examiner (ME) to receive training and pass a test before their names can be added to the DOT's National Registry. ME is defined by the FMCSA as a person who is licensed, certified, and/or registered, in accordance with applicable state laws and regulations, to perform physical exams, and can include, but is not limited to, doctors of medicine and osteopathy, advanced practice nurses, physician assistants, and chiropractors.
A medical examiner's registration is good for 10 years before they must pass a recertification test, but they are required to take refresher courses at five-year intervals. CMV drivers, who are required to undergo a physical exam at least every two years, must choose a medical examiner from the National Registry to perform their physical exam.
"This rule will put a stop to those drivers who were getting their medical certifications from what was basically a 'drive-by' or 'pit stop' doc at a truck stop. The new regulation will help keep unsafe truck drivers off the road because now the doctors must demonstrate that they know the rules as opposed to just being a rubber stamp," Butcher said.
About Julie Butcher
The Julie Butcher Law Office, located in Lexington, Kentucky, has been helping wrongfully injured Kentuckians since it opened in 2003. Representing only plaintiffs who have been seriously injured or who lost a loved one due to the careless negligence of others, Butcher is a member of the Association of Plaintiff Interstate Trucking Lawyers of America and the American Association for Justice, and is admitted to practice in all state and federal courts in the Commonwealth of Kentucky.