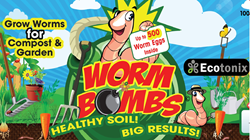 With Worm Bombs, you can plant worms as easily as seeds.
Las Vegas, NV (PRWEB) May 07, 2014
Ecotonix, an award-winning green product development company, introduced its new "Worm Bomb" product at the National Hardware Show in Las Vegas. The product proved to be an instant success and won the award for best product marketing.
Ecotonix won the hardware show's Pinnacle Award for the overall best new product in 2013 with its Green Cycler compost shredder.
"With our Worm Bombs launch, we plan to continue building awareness about the importance of recycling food waste back into our gardens. Worms are the hardest workers in the soil and now gardeners can explode their worm population in order to increase soil fertility," says Gail Loos, inventor of the Green Cycler and Worm Bombs.
"With Worm Bombs, you can plant worms as easily as seeds. These cleverly packaged pods will hatch in about three weeks in your garden soil. Newly hatched worms are far more adaptable to their environment and will start to naturally enrich and rejuvenate soils immediately."
With the Ecotonix Worm Bombs, it's possible to convert organic material into nutrient rich castings that will stimulate fast, healthy plant growth and disease resistance. They thrive on shredded food scraps and yard trimmings and are an important partner in the composting or food-scrap recycling process. Plus, the new Worm Bombs are packed in 100% compostable packaging that's being debuted by Ecotonix and their partners.
Also, in partnership with several gardening organizations and media, Ecotonix is sponsoring contests to support International Composting Awareness Week, May 5-11.
For more tips on how to start composting or using worms in your garden, visit http://www.Ecotonix.com.