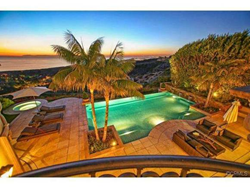 "Southern California luxury estates are in extremely high demand and the global report from our exclusive affiliate, Christie's International, shows that with some incredible numbers," said Rick Brotherton, First Team Real Estate Vice President, Marketing
Irvine, CA (PRWEB) May 07, 2014
While 2013 was noted globally for wealth creation as the global economy continued its recovery, Los Angeles and Southern California luxury estates became known globally for a huge 40% leap in supply of the most exclusive properties while seeing their time on the market drop by an eye-popping 47%.
"Southern California luxury estates are in extremely high demand and the global report from our exclusive affiliate, Christie's International, shows that with some incredible numbers," said Rick Brotherton, First Team Real Estate Vice President, Marketing. "The market for the highest end luxury, $5 million and up, is extremely strong as estates of this size are selling in 77 days on average."
Christie's International published the global white paper, entitled Luxury Defined: An Insight Into The Residential Property Market, in April for the second year in a row. The research for the paper was conducted in over 144 global luxury or high end property markets. In the report, Christie's, identifies that Los Angeles/Southern California experienced a 40% jump in supply for estates over $5 million, while properties at that level sold faster in Southern California than every other market except Toronto.
"Luxury estates are becoming to a certain extent a global capital market and the world is embracing the incredible values and offerings of the Los Angeles market," explained Rick Brotherton. "Whether buyers and sellers are California natives or have arrived in Los Angeles for the first time, the beauty and amenities offered by living in Southern California are unmatched almost anywhere."
For more information on the global white paper, Luxury Defined: An Insight Into The Residential Property Market, click http://ow.ly/wyBuV .
ABOUT FIRST TEAM ESTATES - CHRISTIE'S INTERNATIONAL
First Team Estates - Christie's International Real Estate specializes in selling Orange County's most unique and exclusive properties. As part of the luxury division of Southern California's most trusted real estate company, First Team Real Estate, First Team Estates has been recognized for its unparalleled level of service for estate buyers and international buyers in major media in Asia and the United States. In 2011, 2012, and 2013 First Team Estates - Christie's International Real Estate was recognized as part of the Best Real Estate Company by the annual Orange County Register survey of 100,000 Southern California households. We can be reached at (888) 236-1943 and firstteam.com