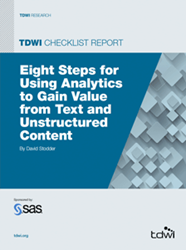 Organizations that aspire to be data driven cannot afford to limit users' data analysis to structured data alone.
Seattle, WA (PRWEB) May 06, 2014
TDWI Research has released its newest Checklist Report, Eight Steps for Using Analytics to Gain Value from Text and Unstructured Content. The report explains the power and benefits of text analytics and how the technology, along with data visualization, enables users to explore text to derive business value.
"Organizations that aspire to be data driven cannot afford to limit users' data analysis to structured data," writes David Stodder, author of the report. Structured data includes "the alphanumeric data types that have been carefully defined, modeled, and stored in standard spreadsheets, relational databases, and data warehouses."
Stodder points out the potential gold mine of insights that reside in text files that can help organizations reduce costs, improve customer relationships, and develop innovative products and services. He notes that analytics covers a wide range of technologies and practices. Software solutions, for example, "combine techniques from natural language processing, statistics, and machine learning." New sources, such as social media, lead to specific types of analytics, such as sentiment analysis. Analytics is also spreading to new fields, helping doctors understand the full context of patient symptoms and engage in evidence-based medicine, for example.
The report addresses how healthcare providers such as hospitals, clinics, and other practitioners are making up for lost time after years of lagging behind other industries and data prowess. Stodder explains why it is vital that these practitioners improve their users' interaction with data. In addition, he explains how BI and analytical discovery are incorporating big data sources—both internal and external—to improve quality of care, patient outcomes, and profitability.
Stodder looks at eight steps enterprises can follow to maximize the benefits of text analytics for the increasing volume of semi-structured and unstructured data. He explains:

Why organizations must first identify business processes and operations that will benefit from text analytics.
How different business scenarios demand different assortments of tools, algorithms, and practices and why enterprises must match these with their requirements.
The importance of developing a strategy for analyzing unstructured data from social media.
How to deploy text analytics to gain valuable insights from customer interactions.
The benefits from integrating analytics for structured and unstructured data.
The report also explains how increasing data visualization options can enable clearer insight from text sources. Stodder also notes the benefits of implementing text analytics with Hadoop, in-memory computing, and other big data technologies, and how mobile device users can benefit from visual text analytics.
This research was sponsored by SAS.
How to Request a Copy of the Report
For a complete copy of the report or to ask questions of the author, members of the press should contact David Stodder at dstodder(at)tdwi(dot)org.
The report is freely downloadable by the public at http://tdwi.org/research/2014/04/checklist-using-analytics-to-gain-value-from-text; a short registration is required for those downloading a TDWI report for the first time.
About the Author
David Stodder is director of TDWI Research for business intelligence. He focuses on providing research-based insight and best practices for organizations implementing BI, analytics, performance management, data discovery, data visualization, and related technologies and methods. He is the author of TDWI Best Practices Reports on mobile BI and customer analytics in the age of social media, as well as TDWI Checklist Reports on data discovery and information management. He has chaired TDWI conferences on BI agility and big data analytics. Stodder has provided thought leadership on BI, information management, and IT management for over two decades. He has served as vice president and research director with Ventana Research, and he was the founding chief editor of Intelligent Enterprise, where he served as editorial director for nine years. You can reach him at dstodder(at)tdwi(dot)org.
About TDWI
TDWI, a division of 1105 Media, Inc., is the premier provider of in-depth, high-quality education and research in the business intelligence and data warehousing industry. TDWI is dedicated to educating business and information technology professionals about the best practices, strategies, techniques, and tools required to successfully design, build, maintain, and enhance business intelligence and data warehousing solutions. TDWI also fosters the advancement of business intelligence and data warehousing research and contributes to knowledge transfer and the professional development of its members. TDWI offers a worldwide membership program, five major educational conferences, topical educational seminars, role-based training, on-site courses, certification, solution provider partnerships, an awards program for best practices, live Webinars, resourceful publications, and an in-depth research program. For more information, visit tdwi.org or follow us on Twitter @TDWI.
About 1105 Media
1105 Media, Inc., is a leading provider of integrated information and media in targeted business-to-business markets, including specialized sectors of the information technology community; industrial health, safety, and compliance; security; environmental protection; and home healthcare. 1105's offerings span print and online magazines, journals, and newsletters; seminars, conferences, and trade shows; training courseware; and Web-based services. 1105 Media is based in Chatsworth, CA, with offices throughout the United States.
Media Contact:
David Stodder, TDWI
dstodder(at)tdwi(dot)org; (415) 859-9933