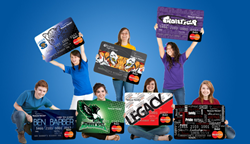 Texas Trust continually supports the students and faculty of our schools.
Mansfield, Texas (PRWEB) May 07, 2014
Texas Trust Credit Union's Spirit Debit Reward program has generated more than a half million dollars for local schools.
From August 2011 through the end of March 2014, schools in the Grand Prairie, Mansfield, Cedar Hill, DeSoto, and Athens school districts received $520,213 from Texas Trust. Since the beginning of this year, Texas Trust has donated more than $25,000 a month to participating schools.
Each school has a custom-designed debit card. Schools receive 15 cents each time their school Spirit Debit Reward card is used to make a purchase. Within the five school districts, there are14 high schools, two administration offices, and one education foundation participating in the program.
So far in 2014, the schools have earned $77,826 compared to the first quarter of 2013, when they earned $50,141. The full-year 2013 total was $257,966. Among individual schools, Cedar Hill High School received the most in 2013, at $50,438, followed by Grand Prairie High School with $27,292 and Mansfield High School with $20,053. Schools receive a check each month based on the previous month's card usage. The schools are free to spend the money as they wish.
"Texas Trust continually supports the students and faculty of our schools," said Dr. Susan Hull, Grand Prairie ISD Superintendent of. "The Spirit card is an easy way for parents, teachers, and the community to support the school of their choice without having to do anything other than use a Spirit card to pay for gas, groceries, movies, or anything else they purchase."
Spirit Reward cardholders and schools can track how much money is being raised for each school from the Spirit Debit Reward Card online at Our Spirit In Action. The Spirit Debit Reward card is part of Texas Trust's Spirit in Action campaign, which rewards schools when members open checking accounts or take out auto loans, personal loans, or mortgages.
About Texas Trust Credit Union
Texas Trust, one of the largest credit unions in North Texas and the 17st largest in Texas, provides financial services that enable members to build brighter financial futures. As a full-service financial institution, Texas Trust offers checking, savings, mortgages, credit cards, CDs, Money Market accounts, IRAs, and investment and insurance services. Its business services include SBA and conventional loans, electronic payment cards, checking and money market accounts, merchant card processing, online banking, insurance and the Employee Solutions Network. With assets of $825 million, Texas Trust operates in Dallas, Tarrant, and Henderson counties, as well as parts of Ellis and Johnson counties. It has 15 branches in Mansfield, Grand Prairie, Arlington, Cedar Hill, DeSoto, Hurst and Athens. Texas Trust is a federally insured financial institution. Deposits up to $250,000 are insured by the full faith of the federal government through the National Credit Union Administration (NCUA). For more information, visit TexasTrustCU.org.