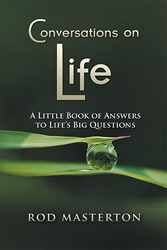 (PRWEB) May 08, 2014
The discussions in the book, Conversations on Life, and its illustrations provide a totally new perspective on the universe that we live in, by drawing together the spiritual-philosophical with the latest scientific knowledge into a cohesive and compelling view of reality. It is a triumph of clarity in communication, as it explores the question of life on both the personal and cosmic scale to bring into clear focus the interrelationship between cosmic influence and personal power in manifesting the extraordinary in everyday life, all told in just 150 pages.
This book is the result of a personal spiritual journey that started over 40 years ago. It is an adventure of self-discovery that reveals the cosmic laws that govern all that exists in our universe, and based on these laws, provides the tools we need to build an extraordinary life. For the reader who has wondered about the big questions of life – where do I come from, why am I here, and where am I going – this little book has the answers they have been looking for.
And it is more than just a casual read. The author says, "It is a companion, your companion, on your personal journey toward an extraordinary life experience. This book need not be your only companion on this journey. Inspired by the teachings outlined in the book 'Conversations on Life', the Live8ion (pronounced Liv eight on) community has been created to support all who are touched by the desire to live a life striving for the extraordinary. Within the book you will find your personal invitation to join this free online community dedicated to bring the extraordinary to life."
Watch the video at: http://www.youtube.com/watch?v=Rhr4qY5MIqM&feature=youtu.be.
Conversations On Life: a Little Book of Answers to Life's Big Questions (ISBN: 978-1-62516-749-1) is now available for $12.95 and can be ordered through the publisher's website: http://sbprabooks.com/RodMasterton or at www(dot)amazon(dot)com or www(dot)barnesandnoble(dot)com.
wholesalers: This book is distributed by Ingram Books and other wholesale distributors. Contact your representative with the ISBN for purchase. Wholesale purchase for retailers, universities, libraries, and other organizations is also available through the publisher; please email bookorder(at)aeg-online-store(dot)com.
About the Author: Rod Masterton was born in 1951 in Sydney, Australia. "My spiritual journey started at the age of 16, through being diagnosed with cancer. Like many others faced with their mortality, I found a need to search for meaning in what I was experiencing. Married at the age of 23 and a father at 27, I brought my emotional baggage to both. As a result, after 26 years, my marriage was dissolved. On Jan. 1, 2012, my ex-wife and I remarried. The fact that we were able to rebuild a strong and loving relationship is as much a testament to the reality of redemption through love, fuelled by the power of forgiveness on my ex-wife's part, as it is to the progress I have made in my personal journey of self-discovery."
Strategic Book Publishing and Rights Co, LLC