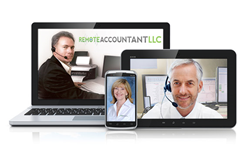 We provide business coaching, and can represent clients in front of the IRS & states to resolve IRS or state tax problems, or tax debt issues
Charlotte, North Carolina (PRWEB) May 08, 2014
With the implementation of remote technology, Remote Accountant, LLC has made critical strides within the accounting industry to distinguish itself from its competitors. Their mission is to protect individual taxpayers, entrepreneurs, and multiple franchisees' investments. Newly introduced outsourced accounting and tax filing services to franchisee owners operating with multi-state locations while also adhering to three guiding principles of responsiveness, professionalism, and quality.
"Sometimes new entrepreneurs or small businesses don't know how to correctly establish setting up a company through their state, or how to correctly fill out an IRS or state tax reporting form – let alone the formation and incorporation process necessary in different states. We provide business coaching and can represent clients in front of the IRS and states to resolve IRS or state tax problems, or tax debt issues," explains Jason A. Vojcik, senior tax accountant of Remote Accountant, LLC.
Greg Wann, owner of the successful Homewatch CareGivers Franchise participated in a Q&A session with Entrepreneur on April 30th, 2014. He stated that owning his own franchise helped him have a direct impact on his local community, and a personal impact on his life. To read about his Franchise advise visit entrepreneur.com/article/233527.
Understanding how to yield the greatest return of every tax dollar is challenging. Remote Accountant, LLC is now serving more than individual clients and small mom & pop businesses across the nation, and keeps abreast of changing federal tax regulation, ensuring the most possible tax returns will be garnered during tax season. Remote Accounting is extending its accounting and tax services to multiple franchises, along with individual accountant subcontractors, offering business advise and financial guidance – guaranteeing future savings.
The experts at Remote Accountant LLC utilize the latest cutting edge technology to serve its clients, including live video chat, encrypted pc to pc log on for automatic updating, so that accounting, bookkeeping, and tax filings are streamlined. Remote Accountant LLC provides a wide range of services which can be found on their website at, or on their firm introduction video.