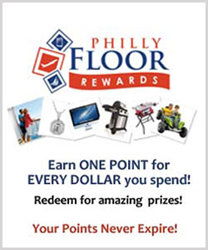 The ability to use points to purchase equipment was something our customers requested, so we were happy to comply.
Conshohocken, PA (PRWEB) May 14, 2014
Philadelphia Floor Store (PFS), a leading distributor of hardwood flooring products and accessories, recently announced the addition of hardwood flooring tools and equipment to their customer loyalty program – Philly Floor Rewards. The program allows customers to earn points based on sales volume which can be redeemed on-line for a wide range of consumer products, travel opportunities, and now flooring tools and equipment!
This program awards members 1 point for every $1 they spend on qualified purchases. Points are tracked and redeemed electronically for thousands of brand name products including housewares, electronics, sporting goods, and jewelry, in addition to tropical vacations and exotic getaways. Rider Sander Packages, Lagler Hummels, Clarke 7R and B2 Edgers, and the Pro Team Mega Vac round out the recently added hardwood flooring redemption category.
"We pride ourselves on delivering programs that are both valuable and convenient to our clients," said Mike Glavin, founder of Philadelphia Floor Store. The ability to use points to purchase equipment was something our customers requested, so we were happy to comply," continued Glavin. Philly Floor Rewards was designed not only to drives sales, but also to provide our customers engagement outside of the PFS shopping experience.
Philly Floor Reward points never expire and there is no time limit on when they can be redeemed. Rewards members also have the opportunity to earn bonus points based on sales volume and via special promotions.
"No other flooring distributer comes close to providing such a full range of opportunities to earn and redeem points for brand-name merchandise, tropical adventures, and flooring equipment," said Joe Glavin, co-owner and national sales manager.
For eligibility requirements and to learn more about Philly Floor Rewards, visit rewards.phillyfloor.com or call 1-800-737-1786.
About PFS
PFS is a leading provider of unfinished and prefinished hardwood flooring and accessories including stains, finishes, abrasives, flooring tools, and sanding equipment. Family owned and operated, PFS has been serving hardwood flooring contractors for more than 20 years and provides the expertise needed to install and maintain hardwood floors. The company offers all the top name manufactures including, Aacer, Century, Norton, Lagler, 3M, Clarke, Bona, Basic, Primatech, Bostick, and more. The company's in-house resources include a top-ranked Machine Repair Center, Rental Center, In-house Chemist, and Gym Floor and Wood Floor Consultants. PFS educates customers via personalized service, online training materials, videos, and free events. Visit the PFS showroom in Conshohocken, PA or shop online at http://www.phillyfloor.com.
For product information and training videos, visit the company's YouTube channel or Blog. Visit Philly Floor on Facebook or follow the company on Twitter at @PhillyFloor. For media inquiries, contact Caran Baxter at caran.baxter(at)phillyfloor(dot)com or call 610-940-5757.