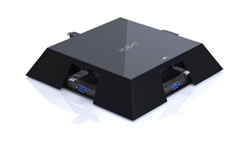 Modena, Italy (PRWEB) June 16, 2014
Eggtronic, a cutting-edge designer and manufacturer of mobile device & consumer electronics accessories solutions, announced today the launch of HUB IT, the world's fastest and first ever customizable sync and charge docking station. Combining the aesthetics of Italian design with advanced USB 3.0 technology, HUB IT delivers a sleek and compact power source package, capable of syncing and charging up to seven different portable devices simultaneously with a 2.5A powerful output per port and at a speed of up to 5Gbps. This high-speed seven-port desktop syncing and charging station boasts three USB 3.0 SuperSpeed ports and four retractable cartridge connectors, which can be changed and upgraded with the latest connection format. HUB IT is perfect for quick and convenient charging access anytime on desks, counters, or nightstands for all household portable electronic devices.
A common USB hub cannot fast charge your devices, nor can a charger download a full HD movie in 15 seconds. HUB IT is the only one sync & charge station with all these features together. Forget the tangles of cables: everything is tidy & organized, at home and in the office, thanks to the retractable cartridge connectors. Finally, HUB IT has 5 slots for additional features, like the wireless Qi charger and many more great optional cartridges.
"HUB IT is the result of more than two years of research and development efforts. Eggtronic is able to offer with HUB IT a unique and stylish solution for consumers looking to sync and charge multiple devices at once. The modularity ensure a customizable solution, for the maximum satisfaction of each user. As we say: Simply Smart!" says Igor Spinella, Eggtronic founder and CEO.
HUB IT is available now in the U.S. for $79.99 at http://www.eggtronic.com, walmart.com, best-buy.com, and amazon.com. HUB IT features include:
Functionality:

USB 3.0 SuperSpeed specification Compliant
Battery charging 1.2 standard compliant device fast charge
Auto-Detection upgradable firmware (downloadable at http://www.eggtronic.com)
Plug-and-Play installation
Hot swappable
Customization and upgrade slots
20W output power
Connections:
3 x USB 3.0 / 2.0 / 1.1 Compatible Ports
4 x USB 3.0 / 2.0 / 1.1 Slots (including Micro USB, Mini USB, Apple 30 pin, Apple Lightning)
5 x Power Cartridges Expansion Slots
About Eggtronic
Eggtronic is an Italian based designer and manufacturer of consumer electronics products, mobile device accessories and innovative technology. Established in 2013, Eggtronic brings to the portable scene its Italian design know-how, quality and passion for extreme attention to detail. Through an undivided commitment to innovative and original designs, Eggtronic produces stylish and functional premium accessories. Eggtronic's products are exclusively sold in North America in leading consumer and electronics retailers, mobile retailers and through http://www.eggtronic.com.