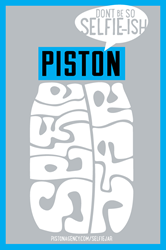 Interactive Day San Diego has grown to be the preeminent digital marketing conference in Southern California.
San Diego, CA (PRWEB) May 08, 2014
At this year's Interactive Day San Diego, digital and creative agency Piston will show how narcissism can make the world a better place with the "Selfie Jar"—where this year's 1,400 plus IDSD attendees can put their selfies to good use.
Attendees simply have to add the hashtag #selfiejar to their posts and for every selfie posted, Piston will make a $1 donation to NAMI. The idea behind the guilt-free selfie will be communicated online and onsite at the IDSD Piston booth. A landing page showcasing the selfies with the hashtag also will keep a running tally of how much has been raised in support of NAMI. Earlier this month on behalf of NAMI, Piston announced the "Strength in Hue movement" and the sponsorship of cyclist Eric Ward's 3,000-mile bike ride for mental health awareness (https://www.indiegogo.com/projects/journey-of-endurance).
At IDSD, Piston employees will wear special t-shirts that they also will hand out to attendees. The shirts will feature the #selfiejar hashtag along with the tagline "Turning narcissism into optimism." Cards explaining the Selfie Jar concept also will be placed in attendee conference bags.
Piston President John Hartman said, "Interactive Day San Diego has grown to be the preeminent digital marketing conference in Southern California, annually attracting more than 1,400 attendees. Piston is proud to be speaking at and supporting IDSD—it's a great event."
With speakers from AOL, Google, Forrester and The One Club, among others, Interactive Day San Diego 2014 will focus on five key tracks: Analytics and Data Management; Digital Advertising and SEO; Design and Development; Social Media and Content Marketing; Technology and Trends.
Piston's Hartman will speak as part of the Agency President's Roundtable discussion that will cover challenges and trends in running a high performance digital agency in today's environment. This is the third year that Hartman is speaking at IDSD.
Hartman will be joined at IDSD by Piston VP, Group Director Megan Black who will moderate the Programmatic Buying Panel discussion of leading media platforms and the future of ad placements.
About Interactive Day
Interactive Day San Diego began in 2004 as an interactive luncheon and has quickly grown to become one of the West Coast's premier one-day digital marketing and ad technology events. Brought to you by the San Diego Ad Club, this annual conference delivers the latest industry trends and best practices while showcasing top digital marketing thought leaders and technology innovators. Our attendees gain access to exceptional networking opportunities with like-minded marketing and technology professionals from around the nation.
About Piston
Piston is a full-service digital agency located in San Diego and New York. Piston creates successful communications between brands and customers based on a deeper understanding of commerce, culture and technology. By connecting these three concepts, Piston builds and tracks brand relation¬ships that span all media, channels and marketing capabilities.