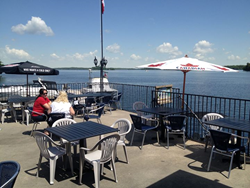 Plas Teak looks and feels just real teak and is more durable.
Portland, Ontario (PRWEB) May 08, 2014
Restaurant Furniture Canada recently proved why it's Canada's leading manufacturer and distributor by teaming up with The Galley Restaurant in Portland, Ontario by providing it with new outdoor patio tables.
The Galley is located in Len's Cove Marina on the Big Rideau Lake, at the center of Eastern Ontario. They have been at that location providing boating and recreation since 1958. With easy access to Ottawa, Kingston and the St. Lawrence/Thousand Islands, there is access to beautiful water and relaxing settings close by. Visitors are surrounded in a resort-like atmosphere with all the amenities close at hand. The grounds are beautifully maintained and give visitors ample space to stretch out and enjoy the day. Visitors can also take a dip in the saltwater pool, lounge on the lawns, barbecue or enjoy a meal at The Galley Restaurant.
The owner of the Galley Restaurant recently decided to upgrade the patio furniture. He heard about Restaurant Furniture Canada's reputation for stylish, well-built commercial furniture and excellent customer service. He opted to go with Restaurant Furniture Canada's Plas Teak Table Top. He chose the square 36" X 36" table tops in black finish and black X prong table bases.
"The Plas Teak Table tops were an ideal choice for The Galley Restaurant because it is so durable and great at withstanding the elements" said Chris, salesperson for Restaurant Furniture Canada. "It's a smart choice for outdoor furniture because it is resistant to water, wind and the sun's UV rays".
Plas Teak looks and feels just real teak and is more durable. It is weather resistant and maintenance free, unlike real teak which requires special care. The revolutionary synthetic teak is the ideal furniture for restaurant patios, outdoor bistros, sidewalk cafes or any other outdoor use. Restaurant Furniture Canada also sells matching Plas Teak chairs.
The Plas Teak Table Top sells for $80 on Restaurant Furniture Canada. A Plas Teak Table set with aluminum frame and legs in natural finish is also available and sells for $200. Stylish Plas Teak Chairs are also available and come in dark walnut and natural finishes.
To browse Restaurant Furniture Canada's full selection of chairs, bar stools, table tops, table bases, booths and patio furniture visit http://www.restaurant-furniture.ca/ or talk to a customer service representative at (888) 998-4222 for answers to all your questions on restaurant furniture.
The Galley is located at 11 Water St. in Portland, Ontario, Canada. They can be contacted at: (613) 272-5125.