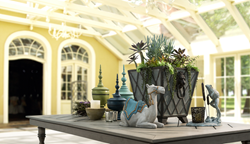 'The Bombay Outdoors assortment is an exciting next step in the evolution of Bombay. The product is fresh and very special,' Wil Hollands, President of Hermes-Otto International
Bingham Farms, Michigan (PRWEB) May 23, 2014
With the slogan "A Journey to your own Backyard™," the eight initial outdoor items available on The Bombay Company's website include three planters, two character side tables, one elephant side table, and two decorative tabletop items.
The full Bombay Outdoors assortment available in 2015 will include hand-picked and originally designed outdoor furniture, toss pillows, outdoor lanterns, decorative garden accessories, planters and much more.
"We are so excited and proud to be bringing a world-inspired outdoor assortment of premium quality to the market," said Kristin Moerman, Senior Director of Bombay Outdoors. "Because there has been such attention to detail, each of the pieces in the collection has been crafted to create an inviting yet distinctive outdoor living space."
Wil Hollands, President of Hermes-Otto International, owner of the Bombay Brand and TheBombayCompany.com, agreed and added, "The Bombay Outdoors assortment is an exciting next step in the evolution of Bombay. The product is fresh and very special."
The first full inaugural Bombay Outdoors collection goes on sale January 1, 2015 with three core categories, Furniture,Planters, and Decorative Accessories. Moerman added that the brand will continue to evolve and include even more core categories in 2016.
"We are extremely excited," said Cecil Kearse, Chief Executive Officer of Arden Companies, the licensee of Bombay Outdoors. "We believe Bombay Outdoors fills a gap in the Lawn and Garden category by providing a line of premium outdoor products at an affordable price, truly allowing customers to journey to their own backyards in style."
For more information on Bombay Outdoors, visit bombayoutdoors.com. Arden Companies is one of America's leading manufacturers and marketers of outdoor products with 50 years of industry experience. Headquartered in Bingham Farms MI, Arden maintains operational centers in Fort Wayne Indiana, Amarillo Texas, Rancho Cucamonga California, and Sanford North Carolina with two international locations in Gongming Town, Shenzhen City, China and Taipei, Taiwan.