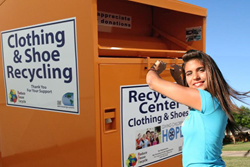 This is a tremendous opportunity to share our message with students this month and create a whole new generation of sustainability advocates in our communities. - Debra Stevenson Peganyee, Chief Marketing Officer for ATRS
Los Angeles, CA (PRWEB) May 13, 2014
American Textile Recycling Service (ATRS) brings its message of sustainability to campuses nationwide with College Move Out Month. Two Southern California universities have joined the pledge to "Recycle, Don't Throw Away!" by separating dorm room textiles from trash as they clear out of campus housing and head home for summer vacations. All unwanted clothing, shoes, bedding and towels will be dropped into easy, convenient ATRS Recyclers located on campus.
University of California Los Angeles (UCLA) Move Out Program runs from June 6-16th. This is the 2nd year UCLA is participating. ATRS Recyclers are located at 20 convenient on campus locations around student residential areas. This is the second year UCLA has participated in the program.
The University of La Verne program runs from May 20-June 5th. University of La Verne will be hosting 7 bins around campus during Move Out Month. The company's orange recycling bins with the distinctive globe logo are located in front of Davenport Dining Hall, The Arts & Communication Building, Hoover Building, Brandt Residence Hall and Oaks Residence Hall.
According to the Sustainability Department at the University of Indiana, the average student generates 640 pounds of waste per year. The College Move Out Month Program is projected to divert tens of thousands of pounds of textiles from campus waste streams nationwide, positively impact municipal waste mandates in cities and educate students on the benefits of textile recycling.
"This is a tremendous opportunity to share our message with students this month and create a whole new generation of sustainability advocates in our communities," adds Debra Stevenson Peganyee, Chief Marketing Officer for ATRS.
Every bag of recycling dropped off at UCLA and University of La Verne this month will be weighed and directly fund "We've Got Your Back," a school nutrition program operated by Southern California charity Giving Children Hope. To find a year-round ATRS Clothing & Shoe Recycling location near you, please call the 24-Hr Hotline 866-900-9308.
American Textile Recycling Service (ATRS) is the nation's fastest growing textile recycler. Its socially responsible business model provides free textile recycling solutions for the public, job stimulation worldwide and much-needed funding for worthy local charities. Easy, convenient ATRS Recyclers are available throughout Southern California, Oklahoma, Colorado, Phoenix, Scottsdale, Tempe and Tucson AZ, San Antonio, Austin, Dallas, Houston, Galveston and Beaumont TX, Nashville, Florida, Michigan, Tennessee and Atlanta. For press inquiries, contact pr(at)atrsonline(dot)com.