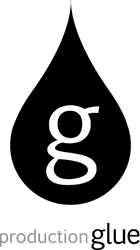 New York, NY (PRWEB) May 13, 2014
production glue, announced its commitment to event innovation and operations with the addition of three new specialized staff members: Robin Lee, Operations Manager, Phil Hampton, Technical Director, and Ashley Ganger, Producer.
These three new additions to the production glue staff will not only further solidify our growing team and strengthen our leadership in event innovation, but also allow us to continue to dedicate ourselves to company best practices and operations.
ROBIN LEE – Operations Manager
Robin Lee comes to production glue with a diverse background in technical direction and operations, having worked as both a technical director and operations manager for a wide variety of industries.
He has worked as a laser technician for Walt Disney World, developing laser effects for various shows. Robin also owned his own renovation company, and worked as a Technical Director and teacher. From there, Robin has secured various roles, from being a visual effects lead, to a Director of Operations, where he managed the development, rollout and ongoing implementation of new business practices and overall operational efficiency, to a Regional Sales Manager, where he acted as a sales leader for a large wholesale division.
Robin's vast experience in operations, sales, and direction will help him succeed in this new position, where he will help leverage production glue's production process with streamlined efficiencies that will benefit production glue across departments.
The position of Operations Manager is new for production glue, and represents a strategic shift from a more departmentalized approach to a more organization-wide focus, allowing laser focus on best practices that will foster more open communication between glue departments, ultimately leading to a superior experience for our clients.
PHIL HAMPTON – Technical Director
Phil brings over twenty years of diverse production experience to production glue, having worked for companies in many unique fields of all shapes and sizes. He holds the unique distinction of making good on the phrase "ran off and joined the circus" after his tenure as Technical Director for Cirque du Soleil.
Phil's background in technical directing events of all shapes and sizes pairs perfectly with the production glue mindset. No task is too large or too small for Phil, having erected tents, built shows, and managed the production and creative process, all while amazing an impressive client list that includes community theatres, respected non-profit theatres and professional organizations.
ASHLEY GAGNER – Producer
With her roots in theatrical design, Ashley started her career as a lighting designer, scenic artist, and props designer. Prior to joining production glue, Ashley produced corporate events for various fortune 500 companies such as Pepsi and American Express.
Ashley brings with her a vast understanding of both the technical and logistical side of events, making her an incredible asset to our producing team. Her passion for design along with her organizational skills, keeps her projects on track, further enhancing not only glue's process, but also the happiness of our clients.
About production glue:
production glue, founded in 2006, is an award-winning agency partner that produces unique live experiences. Our clients include major brands, PR firms, marketing agencies, international festivals and often include A-list musical artists and talent. Through our team's versatility and breadth of experience, production glue influences the strategy & execution of the coolest and most ambitious events - the more challenging, the better!
For more information, please contact info(at)productionglue(dot)com.