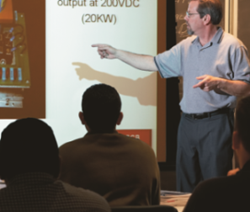 Hypertherm is offering two days of educational workshops and a webinar for businesses who cut metal and other industrial materials.
Hanover, NH (PRWEB) May 08, 2014
Hypertherm, a U.S. based manufacturer of plasma, laser, and waterjet cutting systems, is offering two days of educational workshops and a webinar for businesses who cut metal and other industrial materials.
Hypertherm experts will travel to Youngstown, Ohio for educational workshops on May 20 and 21 at Eastern Gateway Community College. Among other things, the workshops will show people how to improve system performance, material usage, and consumable life.
The events, valued at $250, are offered at no charge. The May 20 Advanced Productivity Training features Jim Colt, an avid fabricator and 35-year Hypertherm veteran widely known for his expertise on all metal cutting topics. Dan McLenithan, a product and application engineer specializing in motion controls, and Hypertherm CAM software experts join Jim to cover a number of strategies employed by some of the best fabricators and steel service centers in North America. The May 21 ProNest Power User workshop is for CAM programmers currently using ProNest or anyone wanting a thorough look at the software's capabilities. Registration is going on now at http://www.hypertherm.com/LiveTraining. Space is limited to ensure a good presenter to participant ratio.
In addition, Hypertherm is offering a webinar titled Beyond Lean: Advanced principles of productivity. Two Lean experts Hypertherm Black Belt and PhD Charlie Hackett and Author Kevin Duggan come together on May 23 to show plant managers how to take Lean to a whole new level.
Dr. Hackett has a diverse background in Mechanical Engineering and more than 15 years of Operations and R&D experience in the metal cutting, spraying, and welding fields. His interests in Lean and Six Sigma range from reducing waste throughout the business, to creating cultural change in teams, to application of statistics in everyday problem-solving. Mr. Duggan is a renowned speaker, author, educator, and expert on operational excellence. He is the author of three books on the subject including Design for Operational Excellence: A Breakthrough Strategy for Business Growth and has helped dozens of companies improve their operations including Caterpillar, Pratt & Whitney, Singapore Airlines, FMC Corporation, and more. People interested in learning more or registering should go to http://www.hypertherm.com/CurrentWebinars.
Hypertherm designs and manufactures advanced cutting products for use in a variety of industries such as shipbuilding, manufacturing, and automotive repair. Its product line includes plasma, laser and waterjet cutting systems, in addition to CNC motion and height controls, CAM nesting software, and consumables. Hypertherm systems are trusted for performance and reliability that result in increased productivity and profitability for hundreds of thousands of businesses. The New Hampshire based company's reputation for cutting innovation dates back nearly 50 years to 1968, with Hypertherm's invention of water injection plasma cutting. The 100 percent associate owned company, consistently named one of the best places to work in America, has more than 1,300 associates along with operations and partner representation worldwide.