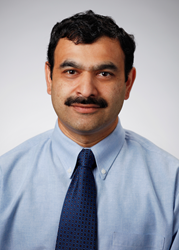 Chapel Hill, NC (PRWEB) May 08, 2014
Operations professor Vinayak Deshpande received the 2014 Core Faculty Champion in Sustainability Award from MBA students at the University of North Carolina Kenan-Flagler Business School.
Deshpande, who teaches the core operations course, received the award from Dean Douglas A. Shackelford and Joanna Furgiuele (MBA '15), MBA Net Impact president, on May 6.
The Center for Sustainable Enterprise also recognized the outstanding achievements of the 41 students in the full-time MBA Class of 2014 who completed the Sustainable Enterprise Concentration.
Deshpande is an award-winning teacher and researcher whose interests revolve around the area of supply chain collaboration, service parts management, and addressing security and privacy issues in supply chains. He conducts this work in industry sectors that include defense, aviation, airlines, computers and automobiles.
Deshpande received his PhD in from the Wharton School at the University of Pennsylvania. He holds a MS from Columbia University; an MS from the University of Miami; and a B. Tech. in mechanical engineering from I.I.T., Mumbai.
"The Core Faculty Champion in Sustainability Award acknowledges the core faculty member selected by students for an exceptional effort to incorporate sustainability into the core curriculum during the 2014-2015 academic year," said Furgiuele (MBA '15). "We hope that this award encourages our core faculty to continue to explore ways that they can incorporate sustainability into their course work. We see this as an avenue to strengthen UNC Kenan-Flagler's brand as a leader in sustainable business practices by providing students with education, opportunity and inspiration to drive social and environmental change."
Deshpande focuses on sustainability in the required operations class. He uses the "Polyface: The Farm of Many Faces" case with an in-depth look into alternative farming options that leverage inter-species synergies to create value. "Using the Zipcar case, we also discuss alternative business models, such as servicization, which can increase profitability and reduce environmental impact," he said.
By putting a sustainability-related case front and center as the very first case of his class, Deshpande helps communicate to students that sustainability is increasingly a part of operational strategy decisions, said Julianne Stern (MBA '15), MBA Net Impact VP of university relations. "The case shows right away how we can apply a common tool, process analysis, to design an operational strategy that takes environmental sustainability into account."
The MBA Net Impact Club created the Core Faculty Champion in Sustainability Award to recognize UNC Kenan-Flagler core faculty members who excel at incorporating sustainability into the content and delivery of their core classes.
The Center for Sustainable Enterprise will celebrate its 15th anniversary next academic year.
"UNC Kenan-Flagler has a distinguished legacy of leadership in sustainable enterprise," said Shackelford. "Our newest graduates join a strong network of over 600 UNC Kenan-Flagler sustainability alumni. They will be working at major corporations like Bank of America and Deloitte and growing organizations like SJF Ventures and North Highlands. Others are creating ventures. We look forward to watching how they serve as change agents to use their business education and leadership skills together for both the bottom line and the greater good."
###
About the University of North Carolina Kenan-Flagler Business School
Consistently ranked one of the world's best business schools, UNC Kenan-Flagler is known for its collaborative culture that stems from its core values: excellence, leadership, integrity, community and teamwork. Professors excel at both teaching and research, and demonstrate unparalleled dedication to students. Graduates are effective, principled leaders who have the technical and managerial skills to deliver results in the global business environment. UNC Kenan-Flagler offers a rich portfolio of programs and extraordinary, real-life learning experiences: Undergraduate Business (BSBA), full-time MBA, Executive MBA Programs (Evening, Weekend and global OneMBA®), online MBA@UNC, UNC-Tsinghua Dual-Degree EMBA, Master of Accounting, PhD, Executive Development, and UNC Business Essentials programs. It is home to the Frank Hawkins Kenan Institute of Private Enterprise.