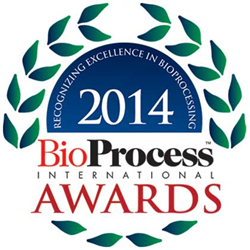 "We are pleased to be part of this program that recognize outstanding developments in bioprocess technology and contributes to the global availability of biotechnological pharmaceuticals." -- Marion Schrader, Head of Marketing, Rentschler
New York, NY (PRWEB) May 09, 2014
BioProcess International (BPI), a business-to-business publication dedicated to delivering cutting-edge information focused on the development and manufacture of biopharmaceuticals and therapeutics, announces an agreement with Rentschler to become an associate sponsor of the 2014 BioProcess International Awards – Recognizing Excellence in the People, Organizations and Technology Applications in Bioprocessing.
The awards has been developed to encourage the leaders, scientists, manufacturers, and suppliers to raise the awareness of their individual achievements, collaborations, successful business strategies, social corporate responsibility and technology applications that will allow the industry to deliver better, more effective treatments to a global patient base.
"The 2014 BPI Award program honors the incredible advances and accomplishments that are continually achieved across all phases of bioprocess development," said Brian Caine, BioProcess International's Founder and Publisher. "Rentschler has a track record of product innovation and demonstrates their commitment to helping the biopharmaceutical industry improve its ability to deliver effective treatments to the global population. We are excited that they have partnered with BioProcess International as an associate sponsor of the 2014 BioProcess International Awards."
"For our clients, the Rentschler brand stands for expert guidance and solutions, long-term expertise, innovation, independence, quality and quickest possible time to market," said Marion Schrader, Rentschler's Head of Marketing. "We are pleased to be part of this program that recognize outstanding developments in bioprocess technology and contributes to the global availability of biotechnological pharmaceuticals."
The nominations deadline is June 27, 2014.
Awards will be granted recognizing achievements within the following categories:

Individual Achievement
Best Collaboration
Excellence in Leadership
Lifetime Achievement
Excellence in Facility Design or Retrofit
Emerging Company
Corporate Citizenship
Most Effective Licensing or Co-Marketing Collaboration
Best Technology Application - Upstream (user or supplier)
Best Technology Application - Downstream (user or supplier)
Best Technology Application - Analytical (user or supplier)
Editor's Choice Award
About Rentschler
Rentschler is an independent, family-owned biopharmaceutical CMO with long-term track record, high level of flexibility and tailored project performance. Our full-service concept covers development, production of recombinant proteins in mammalian cell lines, Fill&Finish and international regulatory expertise. Our State-of-the-art facilities with bioreactors up to 3,500L total volume and our quality control ensure highest quality. To learn more: http://www.rentschler.de.
About BioProcess International
BioProcess International is part of the T&F Informa BioScience Group, the leading provider of scientific, technological, and business information to the global life science community.