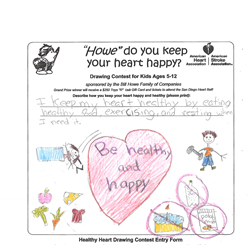 I am going to buy a present for my friend's birthday.
San Diego, CA (PRWEB) May 09, 2014
The Bill Howe Family of Companies started as a small one man plumbing company in San Diego offering low cost service to the local community. Since opening his doors, Bill Howe has steadily grown the company into a successful, large low cost service & repair operation, with two additional divisions for heating & air conditioning and restoration & flood remediation. Part of the success has been a commitment to giving back to the San Diego community through outreach, sponsorship opportunities and their most prominent team up with the American Heart Association (AHA).
The AHA and local plumbing company in San Diego have been teaming up for the past 5 years. The sponsorship includes an annual donation to the AHA of $25,000, support at the San Diego Heart Ball Gala in June and a unique drawing contest aimed to promote healthy active lifestyles and raise awareness of heart disease and stroke in the local community.
The San Diego plumber created the "Howe" Healthy is Your Heart Drawing Contest to encourage children ages 5-12 to learn about and engage in heart healthy lifestyles. The contest opens each year on February 1, at the start of National Heart Month. The Bill Howe Family of Companies hosts a kick off launch party in January and several community events to help promote the contest. The age category winners and "Facebook Favorite" winner of the contest each receive a $100 gift card to Toys R Us, and the Grand Prize Winner receives a $250 gift card and an invitation to the Heart ball with his or her family held at the Hotel Del Coronado.
The "Facebook Favorite" is chosen from the 100 finalists from the entries. This year, over 450 children entered the contest throughout the county. Public voting took place on the San Diego Plumber's social media site and opened up to all fans for two weeks. The drawing with the most likes/comments was named the winner. The 2014 "Facebook Favorite" is Zoe, age 7 from Pacific Beach. The winning drawing exhibits all the elements of a healthy and active lifestyle, nutrition, sleep, exercise and love. When asked what Zoe would do with the gift card, "I am going to buy a present for my friend's birthday," she replied sweetly.
"The drawing contest is one of our favorite times of the year," said Tina Howe, Vice President of the Bill Howe Family of Companies. "Not only do we get to help promote health and fitness, but we get to share our passion with the community while raising awareness for such a great and important organization."
For more information about the Bill Howe Family of Companies, visit http://www.billhowe.com, or to speak with Bill or Tina Howe regarding this announcement, contact Bill Howe Marketing Director, Julie Riddle at Julie(at)billhowe(dot)com.
About Bill Howe Family of Companies
Bill Howe Family of Companies is comprised of Bill Howe Plumbing, Inc.; Bill Howe Heating & Air Conditioning, Inc.; Bill Howe Restoration & Flood Services, Inc. The family-owned and operated company began in 1980 with the plumbing division and has grown into San Diego County's largest low-cost one-stop-shop for service, repairs and installation, offering both residential and commercial services. 9085 Aero Drive, Suite B, San Diego CA 92123. Call 1-800-BILL-HOWE because We Know Howe!