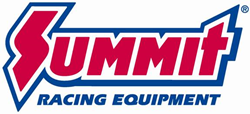 Tallmadge, OH (PRWEB) May 19, 2014
Joe Gibbs Driven HR-2 Conventional High Performance Motor Oil offers superior protection during startup and storage. It features a high zinc content well suited to pushrod engines and engines with flat tappet camshafts. In other words, this is the perfect oil for a classic that only gets driven on nice sunny days.
The 10W30 oil uses a technology that was initially designed for the United States military to deliver optimum anti-wear protection. Plus, this oil's chemistry comes from the same folks who work with Joe Gibbs' championship-winning NASCAR teams.
The guys on PowerNation's Detroit Muscle liked Joe Gibbs Driven HR-2 oil so much, they featured it on their "Tough as Nails Trans-Am" episode. Watch the full episode here.
SEE JOE GIBBS DRIVEN HR-2 MOTOR OIL AT SUMMIT RACING
Summit Racing Equipment
http://www.SummitRacing.com
1-800-230-3030