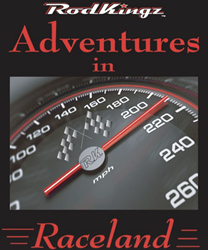 In a culture that is increasingly pushing sex, drugs and violence into children's entertainment, I saw that it was time for an alternative
Los Angeles, CA (PRWEB) May 10, 2014
Troubled by the lack of child-appropriate entertainment in today's culture, author and father A.J. Loft seeks to fill the void with new, wholesome entertainment.
A family-friendly story about growing up and chasing dreams, Adventures in Raceland tells the story of Keegan and Kyle McKay, teens growing up near the world famous Sunnyvale International Speedway.
When the boys find a secret passage in Hot Rod High, they are transported to Raceland, a magical world where the boys can engage in healthy competition racing.
Promoting social interaction, fair play and wholesome personal development, Adventures in Raceland includes a lesson for readers at the end of each chapter.
"In a culture that is increasingly pushing sex, drugs and violence into children's entertainment, I saw that it was time for an alternative," says Loft. "I created the Rodkingz brand to give children an appropriate way to play, learn and have fun."
Geared toward children ages six to fourteen, the book avoids inappropriate subject matter and focuses on clean, appropriate entertainment.
"I want Adventures in Raceland to offer children a fun, light-hearted escape," says Loft.
For more information, please visit http://www.rodkingz.com.
A.J. Loft
Adventures in Raceland
ISBN: 978-1-4771-5668-1
Paperback: $19.99
Kindle: $3.99
Available at Amazon.com
About the Author
Seeing a lack of children's entertainment in today's culture, author A.J. Loft, a father of two, created the RodKingz brand as a wholesome alternative. Aside from Adventures in Raceland, Loft has also developed an interactive game based on family values. He currently lives with his wife and two boys in Canyon Lake, CA.