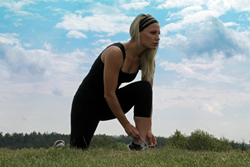 TerraFrog designer yoga and athletic wear is already very competitively priced, so sales of this size are few and far between.
Calgary, Alberta (PRWEB) May 10, 2014
Women's fashion and sportswear designer, TerraFrog Athletic Wear, announced the company will hold a huge Mother's Day sale online at http://www.terrafrog.com. The sale will run May 11 and 12, 2014 and will feature designer athletic tops, technical clothing, yoga pants and accessories at an incredible 50% off with coupon code ACTIVEMOM.
"Buying a great gift for Mother's Day does not have to be difficult," said TerraFrog Director, Cori Windsor. "Active mothers will love our selection of designer yoga clothing and athletic wear--and it is great to receive something different than the traditional flowers and chocolate."
Online customers wanting to take advantage of the Mother's Day sale can go to http://www.terrafrog.com. The sale applies to all regular and sale priced items including TerraFrog's best selling yoga pants and athletic bottoms made from rayon bamboo.
About TerraFrog Clothing Corp:
TerraFrog Clothing Corp. is a Canadian athletic wear manufacturer providing unique, high quality yoga clothing to individuals and select retail outlets. TerraFrog is well-known for their exclusive, trend setting designs and styles. This stylish lifestyle and casual wear company limits the number of pieces they make despite consumer demand.
TerraFrog designs can be purchased directly through the TerraFrog website or at select retailers across North America.
About Mother's Day:
Mother's Day is a day dedicated to honoring mothers, motherhood and maternal bonds. It is celebrated in the spring in many parts of the world. The celebration of Mother's Day first began in the United States of America.