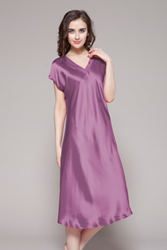 Customers are the most important part of our business.
(PRWEB) May 09, 2014
Lilysilk.com has recently upgraded its silk fabrics of pajamas collection from 19 Momme weight to 22 Momme weight, and proudly announced 20% off on the silk nightgowns. The new silk nightgowns from Lilysilk company come in various patterns and styles with up to six gorgeous colors.
Mike Lee is the CEO of Lilysilk, who is a responsible and humorous gentleman. According to what Mike Lee said, these silk nightgowns are made with high-quality fabrics, featuring charming luster, refined stitching, and elegant looks. The superior quality is that they are extremely soft and can be worn for sound sleep.
In addition, the silk nightgowns come with surprisingly huge price cuts. Customers could not only get the 20% off discounts, but also get an extra piece of silk scarf worth $60 for free. For example, one silk nightgown (22 Momme Short Feminine Silk Nightgown, Model Number: SNW0010) was previously priced at $115, and it is available right now at a discounted price of $92 with a free silk scarf.
"We are glad to introduce our silk nightgowns with great savings at this season. We never sacrifice efficiency or quality for the cheap price. We value the quality all the time. In order to celebrate the Mother's Day, we Lilysilk launched this promotion to express our gratitude and thankfulness to customers worldwide," says Mike Lee.
Lilysilk has seen a strong success in its silk nightwear which are made of 100% pure mulberry silk. The company aims to make its customers sleep well without having to spend too much.
About Lilysilk
Lilysilk is a well-known manufacturer and retailer of high-end silk bedding wares and clothing. Their range of silk pajamas includes durable silk nightgowns, robes, dressing gowns and more. Excellent customer support, high-quality, speedy delivery, and competitive prices, are the reasons to choose Lilysilk.