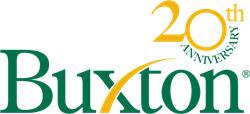 Buxton continues to lead the customer analytics industry with innovative new products and services.
Fort Worth, TX (PRWEB) May 09, 2014
Buxton was named a Finalist in the Most Innovative Company of the Year – up to 2,500 employees – category in The 2014 American Business Awards.
"Buxton continues to lead the customer analytics industry with innovative new products and services," said Tom Buxton, founder and CEO of Buxton. "2013 was an important year for our company as we launched SCOUT Touch and enhanced many of our other capabilities. We are thrilled that The American Business Awards has chosen to recognize our work."
Finalists were chosen by more than 150 business professionals nationwide during preliminary judging in April and May. More than 150 members of several specialized judging committees will determine Stevie Award placements from among the Finalists during final judging, to take place May 13-22.
Details about The American Business Awards and the list of Finalists in all categories are available at http://www.StevieAwards.com/ABA.
About Buxton
In a world where big data gets a lot of attention, Buxton focuses on providing BIG answers to its clients. Since 1994, Buxton has helped more than 3,000 clients in retail, healthcare, consumer packaged goods and the public sector. We provide answers to business questions around real estate, marketing, and merchandising strategies. Our clients include Marriott, Jamba Juice, Red Wing Shoes, Sally Beauty Supply, GNC, and Anthropologie.
For more information, visit http://www.buxtonco.com or follow us on Twitter.
About the Stevie Awards
Stevie Awards are conferred in five programs: The American Business Awards, The International Business Awards, the Asia-Pacific Stevie Awards, the Stevie Awards for Women in Business, and the Stevie Awards for Sales & Customer Service. A sixth program, the German Stevie Awards, will debut later this year. Honoring organizations of all types and sizes and the people behind them, the Stevies recognize outstanding performances in the workplace worldwide.
Learn more about the Stevie Awards at http://www.StevieAwards.com.