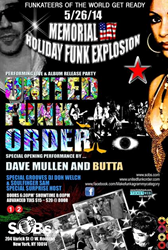 "Dave Mullen on tenor and soprano saxes comes equally from the David Sanborn and Gato Baarbeieri schools of phrasing and rhythmic pulse, and he has a melodic sensibility on par with Stan Getz as a young musician." -- Thom Jurek, All Music Guide (AMG)
New York, NY (PRWEB) May 15, 2014
Dave Mullen and Butta performing at the Memorial Day funk explosion featuring United Funk Order. LIVE AT S.O.B.s,NYC. Join us as we raise the roof with the hottest funk Bands in the land. Doors open at 6pm, showtime is at 8PM. The funk is stronger than ever so be prepared to jam all night long. Advanced ticket sails available at http://sobs.com/2014/3441/united-funk-order.
DAVE MULLEN AKA "MAHONEY" blends a long lineage of players into a vital original style. He pushes the envelope with his unique musical vision,apparent on his project "Mahoney's Way". The CD features such musical heavyweights as, Nile Rodgers, Marc Ribot, Mark Egan, and Victor Jones. Dave has also performed and recorded with a bevy of well known artists such as, Roy Ayers,P-Funk, Eddie Hazel, Brand New Heavies, Gloria Gaynor, Gil Scott Heron, just to name a few.
Reviews
"His urgent playing and blistering sense of improvisation on uptempo tracks 'Like Rashaan' ....has a lot of the retro soul sensibilities that drive that genre." -- Jonathan Widran, All Music Guide (AMG)
"Mullen's sax is urgent, intense and ultra-expressive."-- Ronald Jackson, Jazzreview.com
"He can easily fit in with a style similar to David Sanborn, but can get more bop-friendly in a Michael Brecker fashion, without losing any strength in either," - by da bookman Buzz Grinder music news.
"David Mullen on tenor and soprano saxes comes equally from the Dave Sanborn and Gato Barbieri schools of phrasing and rhythmic pulse, and has a melodic sensibility on par with Stan Getz as a young musician," said Tom Jurek, All Music Guide (AMG).
A wonderful project that includes must titles written by Mullen, and an excellent re-make of Stevie Wonder's "As"...and I love the "Like Rashaan" ..."It's apparent that Dave Has been influenced by some of the best. A great CD that could change the direction of modern Jazz," said Ray Boyd - Director of Global Programing - WorldSpace Corporation.