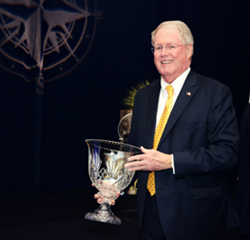 "I am truly humbled by this award and thank Center for Hospice Care for all they are doing to make dignified, world-class end-of-life services available to everyone in our communities." - Bob Deputy
Mishawaka, IN (PRWEB) May 20, 2014
Bob Deputy's community spirit is legendary. He has been part of numerous initiatives to make Northern Indiana – particularly Elkhart County – a better place to live and work.
During his 40-year tenure at Godfrey Marine, a business owned by his family, Bob served as CEO and brought hundreds of jobs to Elkhart County. He continued to apply his expertise in business and fundraising to benefit good causes throughout the community after his retirement.
In recognition of his civic leadership, Center for Hospice Care presented Bob with its Helping Hands Award at its 30th annual dinner event on May 7, 2014. Community leaders from Elkhart and St. Joseph Counties joined together to honor Bob. More than 475 attended the event, which raised $223,845 to support the work of Center for Hospice Care. Since its inception in 1985, the Helping Hands Award Dinner has raised more than $3.29 million for Center for Hospice Care.
A non-profit, community-based organization, Center for Hospice Care has cared for more 27,000 patients since opening its doors in 1980. The Helping Hands Award Dinner and other fundraising events help assure a promise the agency made when it opened that no patient eligible for hospice care would ever be turned away, regardless of their ability to pay.
Center for Hospice Care is a premier not-for-profit, community-based agency improving the quality of living through hospice, home health, grief counseling, and community education. With offices in South Bend, Mishawaka, Plymouth and Elkhart, Center for Hospice Care serves St. Joseph, Marshall, Elkhart, Fulton, Kosciusko, LaGrange, La Porte and Starke Counties. To learn more about Center for Hospice Care, visit centerforhospice.org.