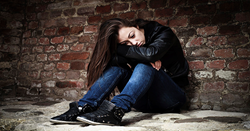 A selfie isn't just a fun photo taken by a teen recording a good time, a selfie will go online and last forever and might never disappear.
London, UK (PRWEB) May 15, 2014
Selfies seem to be the latest internet trend taking the World Wide Web by storm, but teens do not realize the dangers they are putting themselves and others they love into. NoBullying tells you today what lurks behind a selfie.
The articles discusses the possible dangers that can be triggered by sharing one "compromising" selfie and asks parents and educators to focus explaining to teens the dangers that selfies can pose.
For an example, the selfie can reveal the location of the people in the selfie, so imagine one stranger online detecting a teen's hometown or home address all through one potentially harmless photo.
Another danger of the selfie is probably revealing information about someone they didn't want to reveal, for an example, if a teen takes a selfie with a friend and the friend didn't want their photo or face or personal information shared, it counts as invasion of privacy.
Something else that people need to realize is when a selfie is taken and posted it gives out clothing descriptions of what they wear. If people are taking a lot of selfies they could end up giving out more information about their clothing brands and the stores they tend to shop at and this can lead to a stalker or other person learning more about the people and the patterns they have and the places they tend to frequent.
It is also worth noting that the interest in selfies by the celebrity community has pushed more teens to take photos of them and posting them online without worrying about the consequences of the "selfie".
Macartan Mulligan, Co-Founder of NoBullying.com, said "A selfie isn't just a fun photo taken by a teen recording a good time, a selfie will go online and last forever and might never disappear. It all boils down to good parenting and a good explanation on the digital footprint we leave behind."
He added that parents and teachers should make a point to educate the younger generations about the sad outcome of bullying online and offline. According to Mulligan, it is quite imperative to press for more firm laws condemning all acts of bullying and harassment.
NoBullying.com features many pages dedicated to parents, teens, teachers, health professionals as well as posts related to cyber safety and the latest news about law making concerning curbing Bullying worldwide as well as inspirational Bullying Poems and famous Bullying Quotes.
The website regularly updates its bullying statistics and cyber bullying statistics as it is essential to understand how widespread the bullying epidemic is. It also regularly runs cyber bullying surveys and questionnaires to get recent updated statistics on everything related to cyberbullying.
He also added that anyone suffering from bullying in any form or way can always find advice and help on the NoBullying website – but if anyone is suffering from severe bullying or cyber bullying, the best thing is to talk to someone locally – a parent, teacher or local organization that has been set up to help with specialized councilors to deal with this topic.