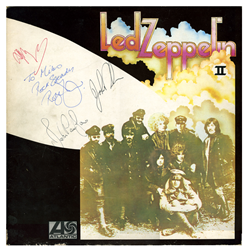 We will pay £4,000 for genuine fully signed Led Zeppelin albums
Chorley, UK (PRWEB UK) 13 May 2014
Tracks, the UK's leading dealer in Beatles and Rock and Roll memorabilia, are looking for Led Zeppelin Autographs and high end Led Zeppelin collectibles.
We will pay £10,000 for handwritten Led Zeppelin lyrics, £4,000 for genuine fully signed Led Zeppelin albums, up to £3,000 for signed Led Zeppelin images, £1,500 for Led Zeppelin autographs on a single page.
http://www.webuyrockandroll.com is the buying arm of Tracks Ltd. Tracks was established in 1989 and is now the world's leading dealer in Beatles and Rock 'n' Roll autographs and memorabilia. We are always looking to appraise or purchase items of Led Zeppelin memorabilia including Led Zeppelin autographs, concert memorabilia such as posters, handbills, programmes and tickets, lyrics, Led Zeppelin film negatives with copyright, original Led Zeppelin photographs, unique and one-off items relating to Led Zeppelin.