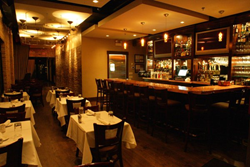 Libertyville, IL (PRWEB) May 12, 2014
Leading commercial furniture distributor Restaurant Furniture.net recently teamed up with 545 North Bar & Grill to supply it with wood bar stools for their newly remodeled restaurant.
Uniquely different, 545 North Bar & Grill promises food enthusiasts a truly enjoyable dining experience. Opened in the late summer of 2006, its goal is to deliver an entirely distinctive and delicious dining experience to residents of and visitors to Libertyville. Deftly blending the ambiance of chic urban bistros with the Main Street U.S.A. backdrop of Libertyville, 545 North Bar & Grill strives to be contemporary, tasteful, traditional inviting all at the same time.
Chef Patrick Joyce's dishes are infused with international flavors to create distinctive tastes designed to cater to the food lover in all of us. With every ingredient utilized delivered fresh daily, from the most exotic spice to the garden fresh produce, 545 North Bar & Grill's menu features flavorful dishes that will satisfy even the most discerning palates. An extensive wine list completes the dining experience here. Whether you love a dry Chardonnay, a Cabernet Sauvignon bursting with berry notes or an exciting Meritage, the wine list at 545 North Bar & Grill has something for everyone, from the Napa traditionalist to the adventurous explorer looking to try new and exciting wines from around the world.
The owner contacted Restaurant Furniture.net to buy new seating. He chose Restaurant Furniture.net because of their reputation as a valued manufacturer of high quality commercial furniture and competitive prices.
For new seating the owner decided to go with the elegant Premium US Made Duna Wood Bar Stool in dark mahogany finish with and upholstered padded seat. Like most of Restaurant Furniture. net's wood furniture, the Premium US Made Duna Wood Bar Stools are made in the USA of solid wood from responsibly harvested wood. The wood bar stools are available in 5 standard finishes: mahogany, walnut, natural, cherry and dark mahogany.
"The Premium US Made Duna Wood Bar Stools were just what the owner wanted to complete the classic look he was going for," said David M., salesperson for Restaurant Furniture.net. Restaurant Furniture. Net also sells a matching Premium US Made Duna Wood Chair which sells for $79 and bar stools sells for $92. Restaurant Furniture. net also makes custom finishes for an additional charge. Customers also have the choice of vinyl padded seats, which are made in the U.S.A. are available in vinyl or fabric in a wide selection of colors and patterns and can also be custom made out of any material to the customer's specifications. Solid wood seats are also available and a custom finish can be made for an additional charge.
Browse Restaurant Furniture.net's full selection of commercial grade chairs, bar stools, table tops, table bases, booths and patio furniture at http://www.restaurantfurniture.net or talk to a customer service representative at (888) 409-1115.
545 N. Bar and Grill is located at 545 N. Milwaukee Ave. in Libertyville, IL. They can be contacted at: (847) 247-8700.