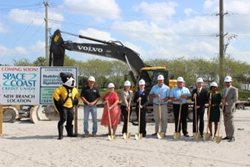 Melbourne, FL (PRWEB) May 21, 2014
Space Coast Credit Union (SCCU) hosted a special ground breaking ceremony for its New Miramar Branch on Friday, May 9, 2014 at 10:00 a.m. The event took place at the construction site located at 15000 Miramar Parkway Miramar, FL. (Southeast Corner of Miramar Parkway & Dykes Road Entry on Dykes Road, Next to Humana)
Local officials and credit union management were in attendance to commemorate the event with a photo of the ground breaking. The new building will be in a more prominent location, offering convenient access and more parking for area residents. The full-service branch will also feature a drive-thru, self-servicing safe deposit boxes and coin counter. The Miramar branch is scheduled for a soft open towards the end of the year, followed by an official Grand Opening shortly thereafter.
About Space Coast Credit Union
Space Coast Credit Union was chartered in 1951 and is headquartered in Melbourne, Florida. The Credit Union serves over 280,000 members with assets of over $3 billion through a network of 57 branches and over 100 ATMs located throughout Florida and through its web site, SCCU.com. Space Coast Credit Union is open for membership to anyone who lives or works in the fourteen Florida counties it serves. Locations can be found at SCCU.com/locations.