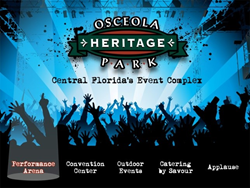 With a tablet in the hands of their promoters and managers, signing on new business could be as impressive as their events and venues.
Jacksonville, FL (PRWEB) May 13, 2014
Advantage Design Group has deployed a mobile web app for Osceola Heritage Park to support their fast-paced, growing entertainment business in central Florida.
Osceola Heritage Park is central Florida's entertainment complex. With five venues on 150 acres it accommodates; concerts, festivals, amateur and professional sports, trade shows conventions and much more.
Getting the word out on the breadth of their events and venues is a staggering feat. Printing guides, updating them monthly, and distributing the schedules was the norm for a long time, but it was not as cost-effective or efficient as it could be.
To bring their communications to the next level, Osceola Heritage Park decided that a web-based tablet application was the right solution. This e-format event guide could work for branding, viewing venues, updating, informing, scheduling and selling their events. With an iPad in the hands of their promoters and managers, signing on new business could be as impressive as their events and venues.
They considered several vendors who produced similar applications in their industry. After some due diligence, they turned to Advantage Design Group based on the multi-media firm's track record of providing the creative talent, the flexible functionality, the technical know-how and the value-add they needed.
Once on board, Advantage Design Group followed a proven methodology that allowed for creative discussion and vision, and in-depth technical functionality. In the end, the final product had to make sense for customers as well as staff. The Osceola Heritage Park and Advantage Design Group team effort lead to a branded, functional format that can grow as Osceola's business grows.
The application features include:

Six main menu areas encompassing the Silver Spurs Arena, Exhibition Building, Heritage Club (New Lounge) Outdoor Centers, Savor Catering and Testimonials.
Links to booking information, lodging, general area information and directions
Access to promotional flyer links, floor plans and testimonial letters
Video, slide imagery, and form functionality
Play background music with volume control and mute option
Mac compatibility
The product showcases Osceola Heritage Park with a welcome video, action photography, and graphical highlights throughout, all complementing their brand. It introduces their venues – Silver Spurs Arena, Exhibition Building, Outdoor events, Catering by Savor – and includes testimonials to back it all up. Viewers have access to detailed information on each venue including floor plans, as well as directions, area information and easy options for contacting the park.
"Through our mutual dedication and the varied talents at Advantage Design Group, we were able to tell our story on an iPad in a compelling way," said Jason Refermat, Marketing Manager, "the team was very flexible and patient, which was vital to our creative process and to the success of the project"
Osceola Heritage Park views their iPad application as a continual work in progress. As features, venues and events are added to the park, so will they be added to the iPad. They can easily modify as needed, grow as they grow, and continue their forward-thinking business tradition.
About Advantage Design Group
Advantage Design Group is a multi-media design and development firm based in Jacksonville, Florida with 15 years of experience in developing websites, videos, online training and orientations, interactive maps, tradeshow presentations, virtual tours, touch screens and mobile web apps for corporations and higher education institutions. Advantage Design Group is recognized as top 10 advertising and marketing agency in the Jacksonville Business Journal's 2013-2014 Book of Lists. They have done work for organizations like Bank of America, Detroit Tigers, Pratt and Whitney, New York University, African Wildlife Foundation, and Zurich Insurance.