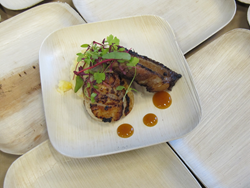 Stephen Davis observed, "The dish was well received and the Sodexo-UMHNJ team garnered numerous compliments from those who attended this very elaborate brunch in a beautiful setting."
Neptune, NJ (PRWEB) May 20, 2014
Renowned national and international chefs gathered in Wilmington, DE, on Sunday, April 27. Among those showcasing their culinary talents were two United Methodist Homes of New Jersey (UMHNJ) executive chefs: Chad Kubat of Pitman Manor (Pitman, NJ) and Lloyd Cato of Francis Asbury Manor (Ocean Grove, NJ). Accompanied by Sodexo Area Executive Chef Stephen Davis and Area General Manager Robert Bourgon, the four created pan seared Barnegat Light scallops with creamy cheese grits and crispy pork belly at one of the many chef stations.
Stephen Davis observed, "The dish was well received and the Sodexo-UMHNJ team garnered numerous compliments from those who attended this very elaborate brunch in a beautiful setting."
In eager anticipation of the annual event, over 900 ticket-bearing guests poured into Hercules Plaza to sample outstanding cuisine, sample mixologists' best spring cocktails, and bid during the premier silent auction. Skilled and innovative professional food service personnel from around the country participate in this event for a very worthy cause. Proceeds benefit and help support the Meals on Wheels Delaware program, ensuring that seniors throughout the state get nutritious meals every day.
"We love this event because it benefits seniors, a group close to the heart of Sodexo. As a company which runs culinary services in many senior communities throughout the United States, it affords us a prominent platform to show off our chefs' talent and replicate the high quality dining experience our seniors enjoy each and every day," assured Robert Bourgon.
Operating throughout five full-service senior communities in New Jersey, the Sodexo culinary team at UMHNJ is comprised of six talented and highly experienced executive chefs: Mark Campbell at Bristol Glen in Newton; Joe Kratochwill at Collingswood Manor in Collingswood; Lloyd Cato at Francis Asbury Manor in Ocean Grove; Chad Kubat at Pitman Manor in Pitman; and Robert LaBoy at The Shores at Wesley Manor in Ocean City; all under the direction of Area Executive Chef Stephen Davis.
United Methodist Homes President and CEO, Lawrence D. Carlson remarked, "Elegant events such as this, showcase the caliber and expertise of our chefs, who master high resident expectations and unique needs. I am so pleased to see public forums where they can demonstrate the unique talent and culinary passion they bring to our communities every day."
With diverse backgrounds, expertise and years of experience, each chef meets the daily demands of a large culinary operation. Daily fine dining as well as high-end catering and special events executed with a personal touch at each UMHNJ community, are appreciated during every meal by the residents and guests. The system as a whole, serves over 1.2 million meals annually. Operating under strict guidelines of sustainability and freshness, the Sodexo team prides itself on resident satisfaction and making everyday a better day for our communities.
For additional information about United Methodist Homes of New Jersey, visit http://www.umh-nj.org or call 732-922-9800.