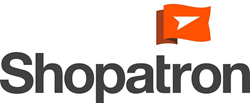 Enterprise manufacturers using Shopatron grew 31% year-over-year in Q1 2014.
San Luis Obispo, CA (PRWEB) May 12, 2014
Shopatron, the retail industry's leading cloud-based distributed order management platform designed for brands, will showcase a collection of cross-channel fulfillment solutions at IR Events Group's first IR Focus: Brands & B2B Conference & Exhibition.
Introducing thousands of brands to its agile, cloud-based technology since 2001, Shopatron Manufacturer continues to develop industry-leading eCommerce programs that drive revenue for top brands like Mizuno, Suzuki, Bosch, JL Audio, Cleveland Golf and Roots.
Shopatron's patented Order Exchange -- the core of the distributed order management platform -- powers a suite of omni-channel capabilities, including ship-from-store, in-store pickup and automated order routing, enabling the brand to fulfill or route orders placed on its website to its retail network to maximize conversion, reduce out-of-stock scenarios and eliminate channel conflict.
Enterprise manufacturers using Shopatron grew 31% year-over-year in Q1 2014, double the growth that enterprise manufacturers in the Internet Retailer Top 500 reported in 2013 year-over-year.
Among the brands out-pacing industry growth is Mizuno USA, a premium supplier of sporting goods in the golf, team sports and running industry. Keith Neely, Mizuno's VP of IT, E-Commerce, & Customer Support, will present at IR Focus, discussing investment decision-making for eCommerce brands and sharing how Shopatron's SaaS solution has supported Mizuno's dealer strategies since 2009.
To learn more, or for a demo of in-store pickup, visit Shopatron in the Expo Hall at booth #114, May 18-20 at the Jacob K. Javits Convention Center in New York, NY.
To find out how Mizuno USA is championing ship-from-store with Shopatron, attend E-Commerce Technology for Brands, Manufacturers, Retailers and B2B: Investment Decision-Making on Sunday, May 18 at 2:50 PM ET.
IR Events Group, a division of GLM, delivers high value and industry-leading content and industry resources, including IRCE, the world's largest e-commerce conference and exhibition, and IR Focus, a series of targeted education and resource events throughout the year.
For more information, visit http://www.Shopatron.com.
About Shopatron
Shopatron is the world's leading provider of cloud-based, eCommerce order management solutions. Powered by our Shopatron Order Exchange, Shopatron Manufacturer allows branded manufacturers to seamlessly leverage the available inventory in every retail storefront and distribution center when fulfilling online orders. Shopatron makes it easy and affordable to deploy advanced capabilities like in-store pickup and ship-from-store, or a full turnkey eCommerce solution without major up-front costs. Shopatron enables over 1,000 manufacturers to unite their eCommerce programs with their physical retail channels, increasing sales, speeding inventory turns, and delivering a superior purchase experience to online shoppers.