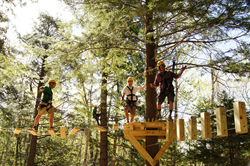 Our goal of educating, entertaining and inspiring people through adventure experiences and immersion in the outdoors is very much in alignment with the mission of Tennessee State Parks.
Pikeville, Tennessee (PRWEB) May 13, 2014
Established zip line tour operator ArborTrek Canopy Adventures has teamed up with Tennessee-based adventure park builder/operator The Adventure Guild, LLC, to develop an aerial adventure park at Fall Creek Falls State Park, Tennessee's largest and most beloved state park. Scheduled to open this spring under the operating name "ZIPStream Fall Creek Falls", the 2.5-hour, self-guided tour will consist of a series of zip lines, suspension bridges and challenge elements. The Adventure Guild, developer of the ZIPStream Aerial Adventures brand, opened their flagship location at iconic Ruby Falls in Chattanooga in 2010. Building on the strength and success of the venture, the new adventure park at Fall Creek Falls is the first of several ZIPStream Aerial Adventures parks the partnership plans to open in coming years in the regional southeast.
Tennessee State Parks is among a number of state and local parks across the country adding aerial adventure parks as an amenity to attract new visitors and increase park revenues. Following a request for proposal last year, the State of Tennessee awarded ZIPStream Fall Creek Falls a long-term lease with rights to install and operate an aerial adventure park inside Fall Creek Falls State Park. The aerial adventure park will be independently operated and open to the public daily during the peak summer season and on weekends in the spring and fall. President of ZIPStream Fall Creek Falls, Michael Smith, and his partners are passionate about the market and the opportunity at Fall Creek Falls State Park. "The new adventure park will provide visitors to the Fall Creek Falls one more reason to return or to extend their stay for a few days," says Smith.
ZIPStream Fall Creek Falls will be designed to accommodate a diverse demographic, with opportunities suitable for children as young as 4 years of age through to active seniors who are of good health and mobility. Following a thorough ground school and detailed instruction, participants will be provided 2.5-hours to explore the course at their own pace. Six routes will be available, each consisting of 8 to 13 elements and graded from easy to extreme. Participants will be encouraged to start on easy, low-to-the-ground green routes, and to work their way up to the blue, red and black routes, reaching heights of up to 40 feet. The course will incorporate a new smart-belay system, which ensures 100% connectivity to the flexible lifelines that run above the elements and protects participants from falls. The system will provide participants the freedom to make choices regarding the route they take and level of challenge they face. Certified guides will be present to provide instruction, encouragement and assistance as needed.
Observing the popular aerial adventure park movement in Europe, Kim and Don Stock, owners of The Adventure Guild, launched the ZIPStream brand in 2010 offering an 'americanized' version of the concept designed to meet U.S. standards and expectations. "When we created ZIPStream, our goals were simple. We wanted to provide an engaging opportunity for people to get off of their couches and out of their synthetic environments, to challenge themselves, and to experience adventure in the natural world. The adventure park was an immediate hit," recounts Kim Stock who will serve as the General Manager for ZIPStream Fall Creek Falls. "Our goal of educating, entertaining and inspiring people through adventure experiences and immersion in the outdoors is very much in alignment with the mission of Tennessee State Parks. We are very excited to be at the Park."
The Office of the State Architect recently approved designs for the aerial adventure park, which were also reviewed by an engineer licensed in the State of Tennessee. Installation of platforms and elements is underway in anticipation of an early June opening. Official opening dates will be announced in coming weeks and posted online at http://www.zipstreamfallcreekfalls.com. In the meantime, interested parties can follow the build team and learn more about the tour at http://www.facebook.com/ZIPStreamFCF or call (615) 861-9947 for more information.
About ArborTrek/ZIPStream, LLC
ArborTrek/ZIPStream, LLC provides established tour operators, resorts, parks, museums, zoos, and land owners with wooded property near tourist destinations or densely populated areas the opportunity to enter the emerging aerial- and eco-adventure park market with the management experience and financial backing necessary to be successful. In exchange for a long-term lease, the company provides the necessary start-up and working capital to build and operate the course. In the addition to visitor draw, land owners receive a generous share of the tour revenue. For more information regarding ZIPStream Fall Creek Falls or to learn more about adding an adventure park to your facility, please call (248) 481-2568.