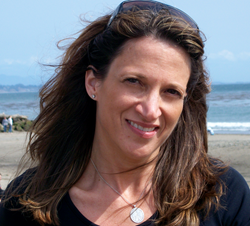 ...pranayama dramatically improved her asthma, meditation helped her to embrace life's challenges with grace and courage, and her yoga practice improved her bone density.
(PRWEB) May 14, 2014
Integrated Health Yoga Therapy's (http://www.ihyt.org/) integration of 'science and the subtle' (http://www.prweb.com/releases/2014/01/prweb11473103.htm) could not have found a more apt and eloquent expression than the appointment of new faculty member Dr. B Grace Bullock, whose work as a psychologist, research scientist, and scientific journal editor, deeply grounded in a spiritual and holistic approach informed by "over 5,000 years of tradition in the art and science of Yogic healing practices", establish her as a true innovator in the continuing cross-pollination of modern fields of psychology and affective neuroscience with the ancient practices of yoga and yoga therapy.
Dr. Bullock's body of experience of combining evidence-based psychotherapy, affective neuroscience, and the contemplative practices of yoga therapy, adds another dimension to IHYT's continual integration of 'scientific', evidence-based mind-body techniques with 'subtle' energy-based and time-honoured yoga therapy practices. She is a true mind-body practitioner with extensive training and experience in both Eastern and Western healing traditions, and more recently their integration.
"Dr. Bullock strongly believes that each of us has tremendous ability to heal our physical, emotional, and psychological wounds, and the behavior patterns that prevent us from reaching the happiness and peace that we seek. [. . .] She believes in a WELLNESS, not an illness model, and embraces the principle that we can achieve happiness and well-being regardless of our circumstances."
(http://www.mind-bodytherapy.com/B_GraceMarieBullock.html)
Having received her Ph.D. in Clinical Psychology with a specialization in behavioural genetics and affective neuroscience from the University of Oregon, Dr. Bullock has developed considerable expertise in numerous modalities of psychology. She has worked in both inpatient and outpatient behavioral health settings, and participated as an Investigator on numerous scientific studies (including National Institute of Health-funded) involving children, adolescents, and their families.
Dr. Bullock's initial connection with yoga was as an athlete. She moved deeper into the practice after enduring years of fractures while attending her doctoral program in Oregon. She later was shocked to discover that she suffered from osteoporosis, and had the bones of an 80-year old woman. This was a bi-product of years of prednisone use to combat asthma and the pollution of Los Angeles. Any high-impact activity would put her at risk of serious injury. Many fractures robbed her of her primary stress-relieving tool of physical exercise, and depression and anxiety set in.
Grace took up cycling, weights, and began a daily regimen of supplements. In 2007 she suffered her worst injury yet – a severe fracture to her upper femur at the hip joint that nearly split the bone in two. When she once again returned to yoga with an atrophied leg she realized that she needed to change her approach. "I had to sit. I had to listen. I had no choice."
This marked the metamorphosis of Grace's yoga practice. Slowly, subtly, she felt a shift from a sense of constant stress, striving and perfectionism to one of feeling peaceful and grounded. At the same time, pranayama dramatically improved her asthma, meditation helped her to embrace life's challenges with grace and courage, and her yoga practice improved her bone density. Grace enrolled in a teacher training program and has continued studying the many facets of yoga ever since. Meanwhile her understanding of the mind-body-spirit relationship in the process of therapy was also transformed.
"For years I watched as my clients suffered, engaged in cycles of self-punitive thoughts and behaviors, just as I had. I realized that most of us are detached from our bodies and our inner divinity, and locked in an endless spiral of doubt, angst, striving, and stress generation. Yoga seemed to provide a different way of thinking and being that shifted those samskaras, or patterns. It offered a holistic view of healing, as opposed to considering the mind and body as distinct entities."
Dr. Bullock is the former Editor in Chief of the International Journal of Yoga Therapy, a Senior Research Scientist with The Mind and Life Institute, Contributing Science Editor for YogaU, a widely published author who has presented extensively national and international conferences. She is also a Certified Viniyoga Therapist and highly experienced Yoga Alliance-certified yoga educator (E RYT-500), and has been a scholar of spiritual traditions. For more information check out the IHYT faculty page at (http://www.ihyt.org/#!faculty/cjg9).
Not only has Dr. Grace Bullock not broken a bone in over 7 years, her exploration of yoga and yoga therapy has revolutionized her clinical work. While continuing to honour the scientific integrity of her mainstream education, she has moved from a 'neck-up' psychological approach to a holistic healing model that emphasizes the cultivation of present awareness, compassionate action, and emotional intelligence as a path to wellbeing. For information on IHYT yoga therapy trainings and workshops featuring Dr. B Grace Bullock, check out the calendar at http://www.ihyt.org/#!calendar/c1ke7.
About Integrated Health Yoga Therapy
IHYT is a yoga therapy school for a wide range of health professionals whose practices might benefit from the skill-sets and philosophy underlying therapeutic yoga. Yoga therapy is becoming more and more recognized and utilized by the medical-scientific community as a safe and effective complementary therapy and treatment in a wide range of conditions. IHYT offers a carefully selected curriculum of evidence-based educational programs taught by faculty who are leaders in their respective fields, as outlined on our website at http://www.ihyt.org/.