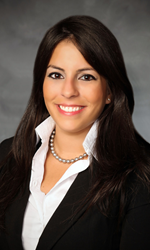 Buffalo, NY (PRWEB) May 14, 2014
William Mattar, P.C. proudly announces the addition of Attorney Claudia V. De Jesus to their firm. Ms. De Jesus focuses her practice on personal injury cases.
About Claudia De Jesus
Claudia De Jesus has a B.A. in Anthropology and Sociology, Cum Laude from the State University of New York at Buffalo. She received her J.D from the University at Buffalo Law School. She is admitted to practice in the State of New York. Ms. DeJesus is a member of the New York State Trial Lawyers Association.
About William Mattar, P.C.
Established nearly 24 years ago, William Mattar, P.C. focuses on auto injury cases for those seriously injured in motor vehicle and truck accidents. The firm represents clients across New York State including the Buffalo, Rochester, Syracuse, Binghamton and Albany regions, with a principal office located at 6720 Main Street in Williamsville, NY. William Mattar, P.C. also has an extensive legal network available to handle most legal issues. Call the William Mattar Immediate Response Team at 444-4444. For more information about the firm, please visit http://www.WilliamMattar.com.