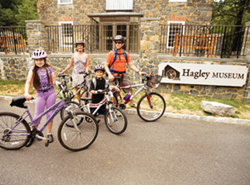 Wilmington, DE (PRWEB) May 13, 2014
Late June through August 2014 – Bring your strollers, tricycles, bikes, and sneakers and head to Hagley Museum and Library's Bike and Hike for ten evenings of fun. Every Wednesday evening beginning June 25 through August 27, Hagley's 235-acre site will be open for walking, biking, and exploring. Bike and Hike runs 5 to 8 p.m. Admission is $2 per person and free for members and children five and under. Dates are June 25, July 2, 9, 16, 23, and 30, and August 6, 13, 20, and 27.
Kick-off Night
Bike and Hike celebrates the start of summer with a kick off celebration on June 25. Families can hike or bike the half mile to the festivities on Workers' Hill. Live music by the June Bugs sets the tone for family games like bean bag toss and the nineteenth-century game hoops and graces. Kids can create colorful spin art to hang on their refrigerators using Hagley's Fender Blender (a bike-powered spin art machine). The Belin House Organic Café will be open with a full menu and barbeque chicken grilled on site, and the Woodside Creamery ice cream truck will be selling ice cream.
Get Your 10,000 Steps
Also kicking off is the Hagley Hikers program. Visitors, ages six and older, can sign up to track their miles at Hagley. During Bike and Hike, visitors will have access to the entire three-mile loop from the Visitor Center to Eleutherian Mills, the du Pont ancestral home. Program participants who walk eighteen miles or visit Hagley six times between June 25 and September 25 will be eligible for a special twilight hayride through Hagley in October. After the last Bike and Hike on August 27, Hagley Hikes may still gain miles at Hagley during regular museum hours. Mileage maps will be available at the Visitor Center. Interested hikers may sign up at Bike and Hike or in the Visitor Center.
Add a Dash of Romance
Bring your date and wander along the most beautiful mile on the Brandywine or through wooded trails above the powder yard. Complement your evening with a Belin House Organic Café picnic tote for $20 (includes sandwiches, sides, dessert, and drinks). Picnic tote orders are due by 3 p.m. each Tuesday and can be placed at 302-658-2400, ext. 271. Visit http://www.hagley.org for details.
Four-Legged Friends Invited
Dogs, normally not permitted on the museum grounds, are welcome on August 27 for the first Dog Day of Summer Bike and Hike. Leashes for pets and waste removal are required.
Rain Dates
Rain dates will be the Thursday following scheduled Bike and Hikes: June 26; July 3, 10, 17, 23, and 31; August 7, 13, 21, and 28. Rain dates will be posted on http://www.hagley.org by 3 p.m. on Wednesday.
About Hagley Museum and Library
At Hagley, we invite people of all ages to investigate and experience the unfolding history of American business, technology, and innovation, and its impact on the world, from our home at the historic DuPont powder yards on the banks of the Brandywine.
For more information, call (302) 658-2400 weekdays or visit http://www.hagley.org.
CONTACT: Meg Marcozzi, Hagley Museum and Library Marketing Manager
(302) 658-2400, ext. 238 mmarcozzi(at)hagley(dot)org
# # #