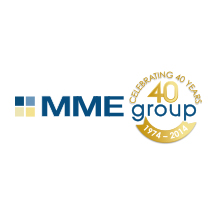 Our success is built on talent, quality, short lead times, competitive costs, and flexibility.
St. Paul, MN (PRWEB) May 13, 2014
2014 marks MME group's 40th anniversary providing expertise and services including engineering, tooling, molding, assemblies and supply chain management.
MME group's story began in 1974 when Don Chlebeck's passion for mold-making and the tool and die trade inspired him to start Minnesota Mold & Engineering. The company grew from a small tool shop to a full service contract manufacturer with multiple locations.
By 2000, changes in the world's manufacturing landscape led Bob Archambault and Brian Bussmann to springboard off Minnesota Mold's momentum to develop a full service contract manufacturer and rename the company MME group.
"We've spent 40 years growing our company and reputation," said Bob Archambault, president and chief executive office at MME group. "Our success is built on talent, quality, short lead times, competitive costs, and flexibility."
MME group's success has resulted in several Fortune 500 customers who repeatedly utilize the vertically integrated services to support and defend their competitive advantage in the marketplace. "We have a history of attracting and retaining customers who value our ability to stay abreast of new technology and provide outstanding quality and service," added Brian Bussman, vice president of MME group. "We work tirelessly to meet our customer's manufacturing needs."
Learn more about MME group's history.
About MME group
MME group is a leading ISO 13485 certified custom plastic injection molding company offering end to end integrated manufacturing solutions for simple to complex individual components and electro mechanical assemblies of small to medium-sized parts. Our services include: Full product development, tooling design, in-house tool construction, production molding, electro-mechanical assembly, program management, supply chain and inventory management.
With some of the fastest turnaround times for contract manufacturing companies in the United States, MME group's speed to market is unmatched providing you with a competitive advantage on low cost manufacturing.
The MME group uses the latest technologies, quality processes, and skilled professionals. We're always striving to find the best solutions to fit your needs.
Make us your contract-manufacturing partner for short lead-times, highest quality and cost competitiveness. Find us at mmegroupinc.com.