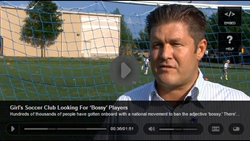 Richardson, TX (PRWEB) June 06, 2014
Brent Coralli, CEO of Sting Soccer, posted his most recent blog today. From the Desk of Brent Coralli – May Nets Many Positives for Sting Soccer, talks about a recent story from The Today Show; positive fallout from the KTVT-TV story on Being Bossy; video featuring Sting Lifers; and a flattering blog about Brent, himself:

Coralli read about a 16 year old girl who graduated high school and college at the same time. While completing her high school coursework on an accelerated schedule — and playing flute in two orchestras — this girl simultaneously earned a bachelor's degree in criminal justice with a minor in Spanish from a south Florida university.
It reminded him about Sting girls who themselves have a rigorous schedule - - practicing two to three times a week, traveling to games throughout the country, keeping up their grades and participating in community service.
Coralli clarifies and expands on what he said as part of KTVT-TV's segment on Girls' Soccer Club Looking For 'Bossy' Players, Doesn't Mind Word.
Coralli shares the Brent Coralli's Sting Soccer Highlight Reel. If you start it at the 11:22 mark, you'll see Sting Lifers who are the epitome of what Coralli and Sting want their girls to become.
Lastly, a gentleman Coralli works with blogged a very flattering piece on their relationship, called Brent Coralli's Goal Scores With Me that was picked up online on Commpro.biz, your destination for answers.