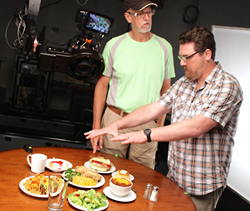 'We can double the number of shots a client would normally expect from a 10-hour day. We save our clients time and money, and give them twice the creative by working this way.' – Ben Hoffman, Gemini Director
Dallas, TX (PRWEB) May 20, 2014
ML Nelson, Noonday Pictures Owner/Director announces Gemini, Noonday Pictures' two-director approach to tabletop shoots.
"It's not unusual for two live action directors to work together," Nelson said. "But, you don't find it in the tabletop world. Director/Cameraman Ben Hoffman and I found with two directors working on two sets simultaneously, there is practically no down time. Ben and I have collaborated for years, but our new approach to producing tabletop commercials by us working at the same time on two different sets has created the next level for us and our clients. For instance, we just completed a tabletop shoot for Dairy Queen in three 10-hour days. It would take a single director seven 10-hour days to accomplish that."
"We can double the number of shots a client would normally expect from a 10-hour day. We are delivering gorgeous footage from spontaneous prep shots, including slow motion, to dramatically sweeping motion-control hero shots of food and packaging," Hoffman said. "We save our clients time and money, and give them twice the creative by working this way."
Cindy Velsor has joined Noonday Pictures as Executive Producer. She brings years of experience in commercial production and client service. She has managed broadcast and digital campaigns from concept to completion, working with national advertising agencies and clients such as Nutrisystem, Disney, and Pepsi. "From the first time I watched ML and Ben work together, I knew they were onto a great idea. They successfully execute tabletop productions that give clients double the setups in less time, reducing the costs. I'm excited to be a part of this win-win concept," Velsor said.
Christy Williams is also joining the Gemini team as Director of Marketing. Christy is a recent graduate from the University of North Texas with a Bachelor's Degree in Advertising Art, and brings enthusiasm to the new endeavor. "Since graduation, I've had the pleasure of meeting and working with some of the most creative people in the commercial advertising industry. I enjoy the collaboration of working closely with clients, and helping them achieve their goals. Gemini is a great opportunity for me and I'm very excited to be a part of the team," Williams said.
About Noonday Pictures
Noonday Pictures was founded by ML Nelson in 1993, and has grown to be a leading one-stop tabletop production company with clients in food, jewelry, and sporting goods. Noonday's 10,000 square foot facility in located in the Design District in Dallas, Texas. The facility offers two stages, a 1,275 square foot commercial kitchen, and proprietary technology systems. Visit noondaypictures.com, contact Cindy Velsor, cindy (at) noondaypictures (dot) com, 214.532.6328 or Christy Williams, christy (at) noondaypictures (dot) com, 214.564.3854 to see the latest work and get more information about working with Gemini.
###