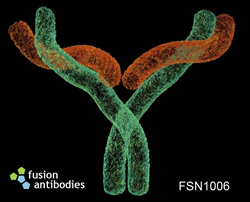 Fsn1006 is unique in that it has been designed to target two proteins associated with cancer simultaneously, and therefore could have a much greater chance of reducing cancer growth
Belfast, UK (PRWEB UK) 14 May 2014
The treatment of pancreatic cancer is a significant unmet need. Forty years ago 3% of people that were diagnosed with this cancer survived for more than 5 years. Today the figure is still 3%, while treatments for breast cancer have increased the 5 year survival rate from 46% to 80% over the same period.
This new early stage drug, Fsn1006, is unique in that it has been designed to target two proteins associated with cancer simultaneously, and therefore could have a much greater chance of reducing cancer growth.
Fusion Antibodies intends to expand the development of this drug into more advanced pancreatic cancer models and will work with a UK based laboratory to develop the data over the next 6 – 9 months. Large pharmaceutical partners will then be identified to help take it into the clinic for human studies. It should be very attractive to a partner, not only because of the potential to meet a global unmet need, but also because the drug is likely to attract Orphan Drug status, meaning lower development costs and shorter clinical trials required to make it available.
A second antibody drug, Fsn0503, also developed in collaboration with Queen's University, has shown efficacy against a range of cancer types, including colon, Brain, Kidney and lung, and is available for partner discussions.
Both Fsn0503 and Fsn1006 are the results of strong investment by local venture capital investors such as Crescent Capital, Clarendon Fund Managers, by private investors and supported through INI grants. Having been originally funded by Qubis when the company was spun out of Queen's University, Belfast, the staff have developed extensive genetic engineering skills, which they also offer as a global service to other biotechnology companies.