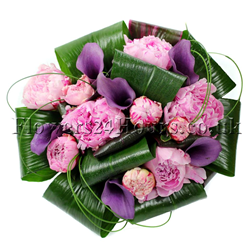 It's always best to buy flowers when they are naturally in season, so now is the perfect time for customers to enjoy a fresh, pretty peony bouquet.
London (PRWEB UK) 14 May 2014
As gorgeous fluffy summer peonies start appearing at the flower markets again, London florist and online flower delivery shop Flowers24Hours has launched a range of new hand-tied bouquets featuring peonies in pretty pinks and reds. New flower bouquets available for same day flower delivery in London and next day delivery to the UK include 'Sho-Yu', 'Zara' and 'Peony Posy', with prices starting at £61.32.
The peony is one of the heralds of summer, starting to bloom in late spring and carrying on through in to the warmer days. Varieties have either single or double petalled heads, and colours range through from deep red, pink and white to the slightly less expected yellow. Flowers24Hours flower delivery service enables customers to order flowers online which are fresh from the flower market and of a high quality, and combine these with its other products such as balloons, cuddly toys, food, wine, chocolate and bath products to create customised online gifts.
The peony, along with plum blossom, is a flower symbol of China. It symbolises wealth and good fortune and is often seen in partnership with the ant, as the insect is believed to help the blossom open. An open peony thus represents the rewards of industry, making it an ideal flower gift to say 'congratulations' or 'well done'. Starting off as a tight ball of petals, the peony expands as it opens into a silken flower of great beauty. Peonies are also extremely popular summer wedding flowers in the UK due to their delicate, full and romantic shape.
UK florist Flowers24Hours' new peony bouquets have been created in order to show off these beautiful summer flowers in the best way. 'Sho-Yu' is a seductive, modern mix of dark pink peonies and purple calla lilies, expertly arranged amongst folded aspidistra leaves and artistically woven grasses; 'Zara' is a feminine mix of soft pink and cream roses and dark pink peonies; and 'Peony Posy' features striking deep burgundy-red peonies combined with luxurious cream roses and sweetly scented freesias. Customers of London florist and flower delivery company Flowers24Hours can now order these flowers online to send peonies for same day flower delivery in London or next day delivery to the UK.
Owner Zlatko "Todd" Todic says, "In addition to their exquisite and unique beauty, peony bouquets are sweetly scented with the smell of early summer, when they are traditionally grown as decorative garden shrubs. Its short flowering season makes it especially cherished and we always look forward to the first delivery of peony flowers to the shop. It's always best to buy flowers when they are naturally in season, so now is the perfect time for customers to enjoy a fresh, pretty peony bouquet."
To send a peony posy or a mixed bouquet of roses and peonies, customers can order online at Flowers24Hours.co.uk or call the company's freephone customer service line on 0800 781 8877. All flower bouquets and gifts are expertly made on site by Flowers24Hours' team of local florists, unlike many other flower relay services where the buyer may be unsure which florist will fulfill the order. This provides a personal service to customers and a unique contact point for people receiving gifts delivered online.
ENDS
About Flowers24Hours
Flowers24Hours is a local London florist and flower delivery service offering a same day flowers service for customers looking to send flowers to London, plus a huge variety of luxury gifts delivered online including gourmet food, wine, champagne, chocolate and spa bath sets. As well as fresh seasonal flowers and plants, it can provide anniversary flowers, sympathy flowers, birthday flowers and gifts for special occasions like a new baby or wedding flowers.