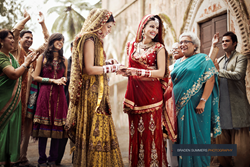 Los Angeles, CA (PRWEB) May 15, 2014
Thomas and Despina Tunberg have announced an international art show,World Wide Art Los Angeles. Set on the modern stage of the Los Angeles Convention Center from October 16-19, 2014, this fine art show will showcase 250 exhibitors who have been invited from all regions of the world. World Wide Art Los Angeles will serve as a visual montage of influential fine art in today's world, as it exists across the globe.
When asked how the show is being curated, Art Director Despina Tunberg says, "Art is not bound by one medium or movement and is pursued regardless of power or profit. In this spirit, World Wide Art Los Angeles will be inclusive of both classic and contemporary art forms, united for the unique purpose of reflecting this moment in art."
With the announcement of the general show arena, Thomas and Despina also announced the show will be used as a platform to bring awareness to different issues that are pulsing through the heart and minds of the global population.
Show Director Thomas Tunberg states, "Art provides an elegant voice that influences major issues across the world. It not only reveals the identity of a culture, but functions within the culture as the ultimate medium in raising awareness over major issues and new ideas circulating that community. Many artists today express and represent an influence on social, cultural, political and environmental themes from the personal to the political, the private to the public and the national to the global. We are providing dedicated spaces inside the show hall, where visitors will have the chance to walk through and visually explore these topics."
When asked what providing this platform means to the couple personally, Despina says, "There are certain issues that we feel very strongly about, and we would like to take a stand, even if we step on a few toes. We believe very strongly in legal and social equality for all, regardless of ethnicity, race, religious beliefs and sexual orientation; civil rights, in other words. Unfortunately, everywhere in the world, this is still a cause and not an established state of affairs that people can afford to take for granted. As for the issue of the environment, our very survival as a species is at stake. Some people might say, well is an art show an appropriate venue for such statements. My answer would be how could it not be? Art is not mere decoration, although certainly it can have that aspect, it is an expression for everything that concerns human beings, and very often an intense one. Thomas and I embrace that aspect of art."
World Wide Art Los Angeles will bring a weekend of art and culture to the Greater Los Angeles area. Providing not only thousands of pieces of work for its audience to view, it brings the influential voice of art to the masses.
To learn more about World Wide Art Los Angeles and the platform it is giving its exhibitors, please visit http://www.worldwideartla.com or email the show staff at admin(at)worldwideartla(dot)com.